Inside Charles Barkley's quest to fix his flawed golf swing
PGA Tour/Getty Images
In his iconic 1993 Nike ad, Charles Barkley famously said, "I am not a role model." For as long as golf fans can remember, that sentiment held true when it came to his unique swing.
Funny thing is, Barkley was a strong player when he first started. His game slowly deteriorated when he started taking too many lessons from too many different teachers."
The next thing I know, I got 10 voices in my head standing over a golf ball," Barkley says. "I went from breaking 80 to not being able to break 100."
It wasn't until 2018, when he crossed paths with Stan Utley, the well-respected teacher out of Grayhawk Golf Club near Barkley's Scottsdale, Ariz., residence, that things started to change.
Like the rest of the world, Utley saw Barkley's swing going downhill for years. "I don't know how he got there, but it was bad," says Utley. "I don't want to know, either. It's close to the worst swing I've worked with."
From an outsider's perspective, it appeared there was a mental hurdle Barkley was unable to get over to complete his swing. He would start, then stop, and then drastically dip to hit the ball.
It was a lot to deal with, but Utley was able to identify the root cause: Barkley's infamous swing hitch was his attempt to retain lag for too long before impact.
"When you don't let any of that angle out, the clubhead's never going to get to the ground," he says. "When you don't let the wrist out, you can't reach the ground, so you dive for it."
Utley explains that all Barkley's problems stemmed from this technical glitch, which caused him to overthink everything else.
The freedom to focus on just one good swing thought had the added bonus of simplifying everything else. So what was the one swing tip that clicked? Cast the club. This simple idea allowed him to release the angle of his wrists, which had the added bonus of freeing his mind and his swing.
"Stan calmed my brain down. He said, 'Hey man, you can't think about 10 things over the ball,' " Barkley says. "That one thing calmed me down."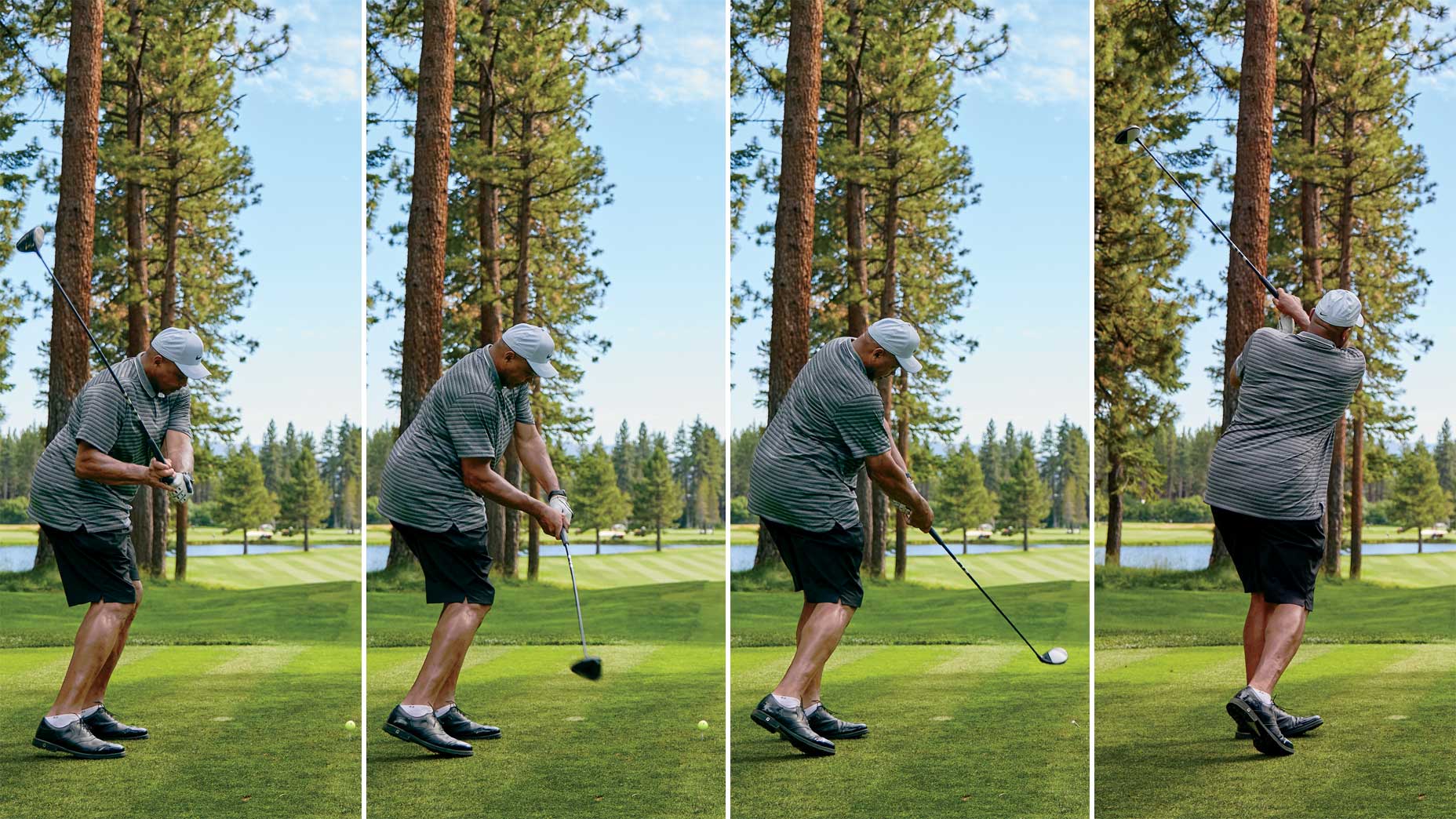 The entire lesson took about 40 minutes. He and Stan worked together only a handful of times after that, and it took nearly two years for Sir Charles to get back to playing solid golf.
Barkley has taken the same attitude that made him a Hall of Famer on the basketball court to the golf course.
"I put him back in a golf swing," says Utley. "I wouldn't call it a good golf swing, but he's making a circle, and his talent is so high that he can take a bad swing and hit good shots. His hands are that good. He finds a way to square up on the ball. The skill I've helped bring back to him is making his swing back into a circle. I simply taught him the one thing that unleashed him. He did all the work."
During their last range session together, Utley asked Barkley to come over and meet a handful of mini-tour players he was coaching. Charles was happy to oblige. "How hard are you willing to work for your goals?" Barkley asked. "Determination is what separates great athletes." It's a message he's applied to his own golf journey.
Turns out, nearly 30 years later, Sir Charles is a role model after all. He's worked hard to get where he is with his golf. It didn't happen after one range session. Barkley's determination, along with the right messaging, has him enjoying the game for the first time in 25 years.
After a successful playing appearance in the celebrity field at Lake Tahoe this past July, and with his swing going viral for a much different reason this year, Barkley sent Utley a text message: "This weekend was awesome. I can't thank you enough."
"I've had Charles' friends come up to me and hug me because their friend can play and enjoy golf again," Utley says. "Now that's the ultimate feeling as a coach."
What's next for Barkley's game? Utley has a suggestion.
"I'm dying to work on chipping with him," Utley says. "Once he gets that down, he'll be dangerous."
Golf Magazine
Subscribe To The Magazine
Subscribe