Jordan Spieth's eye-catching pre-swing rehearsal, explained
Masters.com
Jordan Spieth captured his second PGA Tour win in two years at the RBC Heritage on Sunday, and like all Jordan Spieth victories, it came with a confluence of different emotions.
His win was at times painful (missing a tap-in on his 54th hole of the tournament), exciting (three eagles in his final 22 holes), impressive (1st in SG: Tee-to-Green) and disconcerting (60th in SG: Putting).
One more subplot — let's file it under "eye-catching" — present throughout Spieth's recent appearances has been his pre-swing rehearsal move. Whereas odd practice swings have become commonplace on the PGA Tour nowadays, Spieth's occurs moments before he's about to actually hit the ball. He gets into his setup position, makes a full backswing and transition move, then resumes his setup. A few seconds later, he starts his actual swing.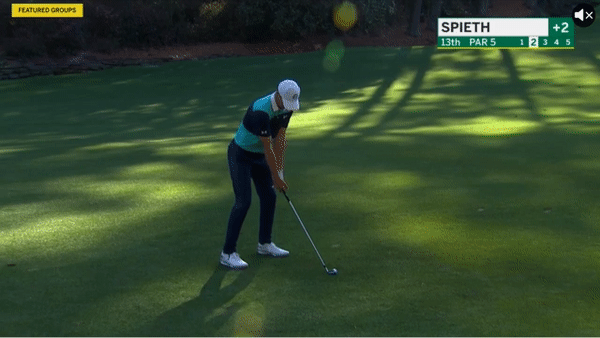 The thinking behind the rehearsal is that it helps Spieth feel a swing thought he's been working for the past two seasons: "turn-and-burn." This is the feeling of Spieth making a full backswing, then shallowing, or laying the club down behind him, in transition, before turning his torso aggressively though the ball. Spieth says it gives him the feeling of using his hands less, and that he's "hitting the ball with his pivot," which he says "frees him up."
Spieth's rehearsal move helps him feel that, and while it's not really all that similar to what he was doing in 2015-17, it's working right now. He led the field in SG: Tee-to-Green for the second time in his last three starts, and now he's back in the winner's circle again.
Throughout it all golf fans keyed in on how weird it looked. In some ways, that's understandable. But it also obscures the more important points that exist under the surface.
Over-exaggerating a swing feeling is good
Jordan Spieth, rehearsal swing vs. actual swing.

He's trying to feel the club shallowing in transition, and then turning his body through.

"I'm still having to rehearse it and still feel, I would say, 200 percent of something that's only really moving an inch at a time." pic.twitter.com/aoRGsXIALz

— LKD (@LukeKerrDineen) April 7, 2022
Basically every single pro out there works on their golf swing, pretty much all the time. The same way a Formula 1 car will constantly be making minor tweaks and adjustments to achieve peak performance, Tour players' golf swings exist as an ever-present work-in-progress. And because the nature of being a professional golfer means you're playing for a paycheck all the time, pros have to get good at taking this into competition.
One of the ways they do this is by over-exaggerating the move they're trying to feel in their swing during their practice swings, even if it means their practice swing starts looking nothing like what their real swing actually looks like. The end goal is getting their swing into a better overall spot, and crucially, creating a specific feeling to focus on during their actual swing. It's a nice idea to have a completely blank mind, free of all thoughts, when you make a swing. But in practice pros often find it's easier to think about one specific thing, knowing that if they do it, they'll like the result.
That's what Spieth is doing with his practice swings.
"I'm still having to rehearse it and still really feel, 200 percent of something that's only really moving an inch at a time," he says. "I'd like to get to a point where structurally I'm not having to do rehearsal swings every time and it just sets in a nice place, and it's not there yet."
Stop caring how something 'looks'
While some fans don't like the idea that Spieth is working on his golf swing at all, most take issue with how it looks. So, I just wanted to provide a polite reminder that caring how something looks is generally a pretty bad way to operate in a game that's already really difficult.
I've heard some golfers try to rationalize they're not good enough to do something — like making an over-exaggerated practice swing — that looks different.
The problem with that logic is that there's never a point in which it seems to end. Players worse than Spieth will make fun of how his practice swing looks. Players who perform something at an elite level that looks different, like shooting free throws underhanded, will stop because they feel self-conscious, even if it means playing worse.
I've found that on a whole, professional golfers pay very little mind to how strange something might look. Rather than worrying about how something may look to those around you, take a cue from Spieth: If it helps you play better, do it. Worry about the rest later.