$790 shafts, high spin prototypes and never-before-seen gear | Wall-to-Wall Equipment
Ryan Barath
Welcome to Wall-to-Wall Equipment, the Monday morning gear wrap-up in which GOLF equipment editor Jonathan Wall takes you through the latest trends, rumors, and breaking news. Outside of a brief J-Wall cameo, the bulk of this week's roundup is brought to you by Jonathan's partner in gear nerdiness, GOLF senior equipment editor Ryan Barath, who was on the ground at Hilton Head for the RBC Heritage.
The winner stuck to the plan
This is normally where we kick off the weekly gear recap with a "you won't believe what the winner did this week", but to be blunt Matt Fitzpatrick is strictly business when it comes to his clubs and that means changes are few and few between. So much so we can actually make some jokes about it.
Fitzpatrick's gear feels exactly like what you would find in the bag of a midsized city public course club champion

☑️ Couple year old driver
☑️ Mixed generation fairway woods
☑️ 10 year old irons
☑️ New wedges
☑️ A putter he refuses to changehttps://t.co/4muKK92iHA pic.twitter.com/VE3l7NYA55

— Ryan Barath 🏌️‍♂️ (@RDSBarath) April 16, 2023
The one thing nobody is joking about is the shot he hit during the third playoff hole that helped to earn him the win and a tidy 3.6 million dollars. Don't worry though, we've still got lots to talk about so let's dive in.
Back in focus
Remember the Autoflex driver shaft? It was the hot topic during Rory McIlroy's Christmas dinner and had a brief spell in Adam Scott's bag during the 2021-22 PGA Tour season. But as quickly as it burst onto the Tour scene, it quietly disappeared into the background until last week when Jimmy Walker reignited the Autoflex conversation.
In contention for most of the week, Walker, who used a one-time top 50 career money list exemption to restore his Tour membership, made equipment headlines with an Autoflex shaft in his Callaway Paradym Triple Diamond driver and Paradym fairway wood.
Based on how much Tour pros talk, it would be natural to assume Walker spoke to a fellow colleague who was using the shaft and gave it a try. But we all know what happens when you assume. In actuality, Walker saw so many Autoflex shafts in play at San Antonio Country Club — his home course — that he decided to see what all the fuss was about. Within a few sessions, Walker saw his ball speed jump from the high 170s to over 180 with no change to his usual action.
"I saw some guys at SACC play it and it looked fun so I gave it a spin," he said. "Hit a bunch of good shots, ball speed hit 183, which is humming for me. So why not [try it]? Same thing with the 3-wood. I'm having a lot of fun playing this setup. The driver is forgiving all over the face, the shaft is a bullwhip. It's that simple."
All of our market picks are independently selected and curated by the editorial team. If you buy a linked product, GOLF.COM may earn a fee. Pricing may vary.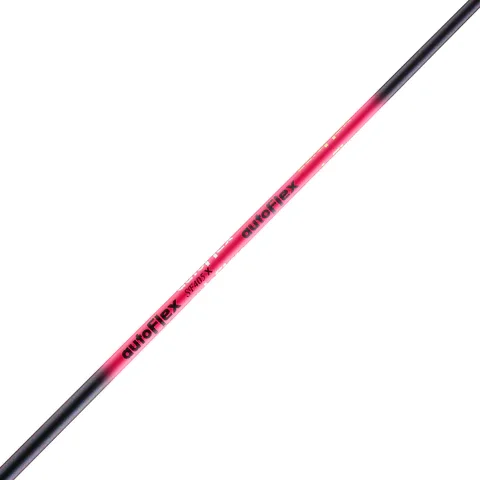 Autoflex Shaft
$790 +
Up to 20 or 30 grams lighter than the conventional shafts. The shaft automatically optimizes the transfer of energy despite different swing speeds.
Buy Now
In an industry where manufacturers have no problem adding visible technology to help tell the story behind a club or shaft design, AutoFlex continues to play things close to the vest. There's very little information available on the pink-and-black model outside of the fact that the shaft is light (57 grams for Walker's XX) and extremely active for today's tour standards, producing a massive whip effect designed to generate more speed at impact.
Using an undisclosed "KHT Technology" — which stands for "Korea Hidden Technology" — the secret sauce allows the shaft to flex (or load) excessively during the downswing but still square the face up at impact. It also comes with a $790 price tag that only adds more fuel to the secretive design. — Jonathan Wall
From the ground up
When it comes to golf balls, Titleist dominates the tour with the Pro V1 and Pro V1X, but even with those options, there are some players who need something a little different when it comes to performance — whether it be for feel, spin or peak height and that's where CPO (Custom Performance Options) come in.
At the RBC Heritage, Titleist launched a new CPO golf ball, the Pro V1+. The goal with the new "Plus" ball is to reintroduce spin to the Pro V1x design that was lost with the newest models since both have lower spin than the previous generation.
A big misconception among golfers is that tour pros are always looking to lower spin with the driver but in some cases, it's actually the opposite thanks in part to their ideal delivery conditions created by their swing and solid center-face contact.
A golf ball with a little extra spin can not only help make the golf ball a bit more workable off the tee, but it can help with stopping power for longer irons. With the popularity of the current models with consumers and the limited target for these golf balls even on tour, don't expect to see this one on retail shelves anytime soon.
Speaking of driver spin
Kevin Kizner was spotted on the range testing multiple drivers, including a Ping G430 and draw-biased Cobra Aerojet Max.
When talking with the team from Cobra the reason for testing the draw-biased Max versus the standard Aerojet or Aerojet LS model is that Kevin's preferred draw off the tee naturally creates low spin, which means if given a driver that doesn't spin enough it won't maintain the ideal amount of spin to stay in the air or curve.
Cobra Aerojet, Aerojet LS and Aerojet Max Drivers
Click through to purchase a new Cobra Aerojet driver from Fairway Jockey.
BUY NOW

This kind of thing is way more common on the PGA Tour than most people think, and it's even more common on the LPGA Tour where they are much more inclined to hit up the ball to create high launch and low spin. This is exactly why Nelly Korda plays the TaylorMade Stealth 2 HD over the lower spinning options from TaylorMade.
The Plus version
Titleist's Pro V1x+ wasn't the only "Plus" version to surface in Hilton Head. Think of the new Callaway Paradym Triple Diamond+ as an evolution of an existing model. The new TD+ offers the exact same head shape and profile as the current Triple Diamond — but with a little bit of extra spin. As you can already see, more spin is certainly the theme this week in gear news.
How much spin are we talking about here? According to Callaway, around 200 RPMs of additional spin with the relocated center of gravity (CG). This was achieved by removing the front weight port and pushing the CG back slightly in the head.
And speaking of Triple Diamond clubheads, another thing we spotted was a Tour-only Paradym Triple Diamond 7-wood.
Thanks, Fred
Tommy Fleetwood put a yet-to-be-released TaylorMade BRNR Mini Driver in play this past week in Hilton Head and it helped him notch a top-15 finish, his third of the 2023 season. With fairways and greens at a premium, Fleetwood felt the club was a good fit for the week. And while the decision to add it to the bag is always up to the user, it's always nice to receive a glowing report from a former Masters winner.
Tommy Fleetwood added @TaylorMadeGolf's BRNR Mini Driver this week after getting a positive report from Fred Couples.

Specs: 12.75 (actual loft) | 57.75 lie | Fujikura Ventus Blue TR 6X | Tipped 1″ | 43.75″ cut | Golf Pride Tour Velvet 58R (1 tape) | D3 pic.twitter.com/iDOgv7ihIe

— Jonathan Wall (@jonathanrwall) April 14, 2023
"Fred Couples had the Mini Driver, and he was raving about it," Fleetwood said. "He said it was so, so good. So I wanted to try one this week. I put it straight in the bag, and I've hit it a lot so far. If I miss it, it's generally off the toe, and it hooks, which was amazing."
On a tight Harbour Town Golf Links layout, Fleetwood's made the most of the Mini Driver, finishing the week inside the top-15 in SG: Off-the-tee and driving accuracy.
New irons for Billy Horschel
Although not a full-blown change from his custom Titleist blades, Billy did put some new T100 long irons into the top end of his bag. He was at one point testing a full set on the range but ended up with 3- through 5-iron. The reason for the switch stemmed from recent swing changes that caused a flatter descent angle in the longer irons, which required more height and stopping power on approach shots.
While the change is Horschel's alone, it's a good reminder for weekend golfers that you need to take a hard look at each club in the setup, especially if you're undergoing swing changes. A different attack angle may require adjustments to the bounce or loft on the irons currently in the bag. Or it could require you to break up the iron set and go to a mixed composition. It's important to be open to change, when necessary.
3D printed prototypes from Cobra
The Cobra Tour truck was a busy one this week. Two 3D-printed utility irons were spotted on the range that look the same from the outside but actually feature different internal structures to create unique acoustics. One head had an internal lattice structure, while the other used a more traditional injected foam. Gary Woodland was the test subject for these particular heads. No word yet on the results.
Cobra also had a couple of the new 50th-anniversary Aerojet drivers on the truck to showcase. The driver celebrates a major milestone for the equipment manufacturer and sports a black-and-gold colorway with small King Cobra logos dotting the carbon fiber sole plate. Although the driver has a fresh look, it's actually built around the same technology as the retail Aerojet and Aerojet LS.
Ping putters
Ping had a new PLD custom finish on the putting green that was being tested for overall player feedback and preference. The putter also featured a sound slot behind the face for brighter acoustics. A new face-balanced blade dubbed the Anser "Z" was also nearby for feedback purposes.
Miura irons for Furyk
Club free-agent golf bags are always worth peeking into, and Jim Furyk knows his way around RBC golf tournaments — he's sponsored by the bank — so when I spotted him on the green at the Heritage there were a couple of things going on worth noting. First off he was enjoying seeing that Odyssey had brought back Versa putters. No seriously, as much as we geek out on gear, the Heritage was the first time he knew they even existed.
Secondly, the former major winner gaming a fresh-looking set of Miura TC-201 irons, making him another player to recently convert to the Japanese manufacturer for a new set of forged sticks.
Adam Scott loves to tinker
The popular Aussie not only changed iron shafts from Project X to some new True Temper Tour Issue X100s this week but also put back into play a Srixon U85 for Hilton Head, with the goal of navigating his way around the narrow fairways.
Although not a top-10, Scott easily made the cut and finished in a tie for 31st. For how much Adam has been tinkering with his clubs over the last couple of months, his results have remained pretty consistent, which makes me believe if and when he finds a feel during this season, he's going to bag another win quickly.
Want to overhaul your bag for 2023? Find a fitting location near you at GOLF's affiliate company True Spec Golf. For more on the latest gear news and information, check out our latest Fully Equipped podcast below.