Adam Scott's latest gear change is PGA Championship perfection | Wall-to-Wall
Jonathan Wall/GOLF
Welcome to Wall-to-Wall Equipment, the Monday morning gear wrap-up in which GOLF equipment editor Jonathan Wall takes you through the latest trends, rumors and breaking news.
Gold standard
Fairways and greens. It's a boring combination if you enjoy watching pros bomb and gouge their way to a major championship, but it might be the best way to tackle Oak Hill Country Club's East Course, site of the 2023 PGA Championship. With narrow fairways and thick rough to contend with this week, in-form ball-strikers could have a distinct advantage.
Up until several weeks ago, Adam Scott wouldn't have been on the list of in-form ball-strikers entering the PGA Championship. Possessing arguably the most coveted swing in professional golf, Scott finished no higher than T21 in his first eight events to start the year. A big part of the problem stemmed from inconsistent iron play that saw Scott go from the mid-50s on Tour in SG: Approach-the-green the past three seasons to outside the top 150 in the statistical category this year. Something needed to change.
Prior to the Masters, Scott had relied on KBS Tour 130X steel in his irons for a very good reason: It was the same shafts he used to win the 2013 Masters. Even weekend golfers can attest that past success weighs heavily on equipment decisions. When something isn't working, it's natural to go back to something that's produced good vibes in the past.
"We always come this full circle every couple of years, and then he goes back to KBS," said Paul Loegering, True Temper's director of tour operation. "Adam wants to feel load and release. He delofts at impact, so he needs to feel something to help create launch and spin. The other part of that was he was playing the old [Titleist] Pro V1 — I think it was the 2015 model — forever and didn't want to change."
But what happens when you change an important variable? In Scott's case, moving from Titleist's Pro V1 to 2023 Pro V1x golf ball, prior to the Masters, led Scott to take a closer look at his iron shafts. Working with Loegering, Scott moved into the lower spinning Project X LS in an attempt to drop spin. However, the change came with a few drawbacks.
"The ball change required a lower spinning shaft, but something still didn't feel right," he said. "There's going to come a time where you're going to want to move the ball more. People that love Project X don't want to feel load and release. They want it to feel one piece. They don't want to feel it dynamically in their swing."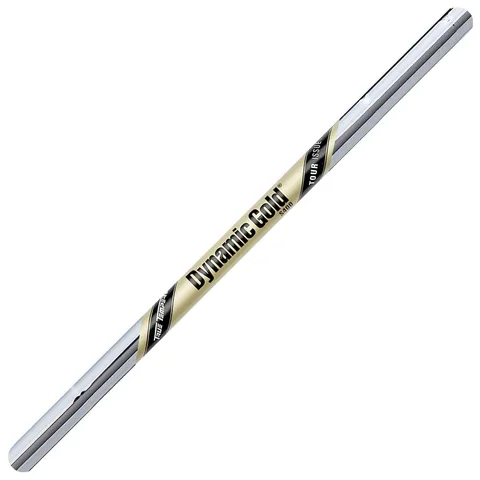 True Temper Dynamic Gold Tour Issue
Want to use the same iron shafts as Adam Scott? Check out Fairway Jockey.
BUY NOW
What Scott continued to see on the course with Project X LS was a less spin — but with a noticeably higher apex. In other words, the ball had a tendency to balloon on Scott, moving him out of the launch and spin window he was used to seeing.
At the RBC Heritage, Loegering suggested Scott go back to True Temper Dynamic Gold Tour Issue — a shaft Scott has won with in the past — and reclaim some of the workability he was missing with PX LS. The moment he put X100 in his Miura AS-1 blades, the usually-reliable iron game returned in a big way.
"It turned out to be the best combination with the new ball," Loegering said. "His numbers on the launch monitor were perfect — and he's not a big launch monitor guy. He said it was like coming home again. Not only did spin come down with X100, but the launch went down to a window he's used to seeing. For him, it's getting more control with the ideal launch — and no ballooning."
Scott wound up adding X100 to all of his clubs, with the lob wedge being the only exception.
"He was going to do X100 all the way through, but I asked him, 'How many half and three-quarter shots do you hit with a lob wedge?' I think it should've been [S400] in the sand and lob wedge, but he ended up just putting it in the lob," said Loegering.
The return to X100 has been a total game-changer for Scott, who hasn't finished outside of the top 10 in his last two starts. With accuracy at a premium, one of the best parts of Scott's game appears to be rounding into form at just the right time.
Super Spider
Mention the name TaylorMade Spider Itsy Bitsy and one player probably comes to mind: Jason Day. The Aussie put TaylorMade's uber-successful mallet on the map during his ascension to No. 1 in 2015 and played a significant role in the meteoric rise of Spider Red as well.
Day and Spider go together like peanut butter and jelly, but even successful partnerships have their rough patches. For the last few years, the former PGA Championship winner opted to go with something other than Spider as he tried to find his game, including a Scotty Cameron TourType SSS TG 6.5 mallet.
Shop TaylorMade Spider Putters
Get a brand-new TaylorMade Spider putter customized for your game at Fairway Jockey.
BUY NOW
While his putting seemed to click for stretches, nothing proved to be a long-term solution. At the Wells Fargo Championship, Day returned to a fresh Spider Itsy Bitsy but wound up missing the cut. Instead of kicking the putter to the curb, Day wound up keeping it in the bag at the AT&T Byron Nelson.
"I was using a Scotty Cameron and then I changed to one of my old TaylorMade Spider putters last week," Day said. "I missed the cut, and then …"
And then faith in Spider paid off. Day closed with a bogey-free 62 on Sunday to win for the first time in five years, confirming what many of us, including the 35-year-old, already knew: Spider is his putter.
Day ended the week 28th in SG: Putting (plus-2.703), but the wand caught fire when it counted. With a hot putter in tow, Day is without a doubt a name to watch this week at Oak Hill.
Want to overhaul your bag for 2023? Find a fitting location near you at True Spec Golf.