How a Masters pro mishit a shot and created an awkward patron reaction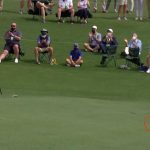 masters.com
Countless times, at tournaments like this week's Masters, a pro will swing, some noise or movement will snap the silence, and the player will catch themselves one-quarter, two-quarters and even three-quarters into the swing, somehow stop and reset.
But can a fan (patron) pull it off?
Can they suddenly stop putting left hand against right when the situation may flip from happy to horrible? Well …
Henrik Stenson, during Thursday's first round of the Masters, hit his tee shot on the 505-yard, par-4 11th at Augusta National 269 yards down the left-center of the fairway. He hit his second shot 212 yards but right — and right onto the adjacent tee box for the 155-yard, par-3 12th. Where Stewart Cink had just hit his tee shot.
Stenson's ball bounced as Cink lowered his iron on his follow-through. Cink looked down at the errant ball as it rolled down a small embankment, then looked back up his tee shot, which would end up 10 feet from the hole. Cink, rightfully so, had chosen which ball he'd continue to follow — his own. But what about the patrons gathered around the 12th tee box? Would they cheer Cink's shot, or stay silent after Stenson's?
They stood by their man — which created a somewhat funny few seconds.
As Stenson's ball began to roll farther down and a little closer back to the 11th green, the fans began to golf-clap.
Now, of course, maybe they didn't see Stenson's ball, but still, it did nearly poke Cink. Nevertheless, from there, Stenson couldn't get up and down and bogeyed the hole on his way to a one-over 73, and Cink rolled in his birdie putt before signing for a 74.
Both final scores, on a tough day at Augusta, were worth applauding.