ST. LOUIS — Tiger Woods began his PGA Championship Saturday before the sun rose. He wasn't the only one — by 6 a.m., the cramped range of Bellerive Country Club was jam-packed with half the PGA field. Woods warmed up between Andy Sullivan and Brian Harman, running through his bag as he prepared for the 69-yard wedge shot that awaited him.
Eleven hours later, Woods stood up from the scorer's table for the second time of the day. He was visibly weary, with beads of sweat running off his face, gamely fielding questions as the sun sank lower in the hot Missouri sky. Woods played 28 1/2 holes, charged into contention and invigorated tens of thousands of spectators on a day that was good and at times looked like it might turn great.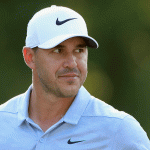 At 6:40 a.m., Woods and caddie Joe LaCava left the putting green and walked to the 8th fairway, where Woods had marked his ball the day before — a simple tee in the ground. (Justin Thomas left three tees in the ground by his ball but they were mown over, but no matter. He got to estimate and place his ball for free.) A 70-yard wedge shot is a decidedly tricky way to start a round, even with proper range warmup. But Woods at least got to place his ball back on the zoysia fairway, which had drained effectively despite Friday night's heavy rains. Once three blasts of an airhorn signaled the start of Day 3, Woods stepped up and nipped the wedge shot nearly perfectly, skipping over a ridge at the front of the green and checking some six feet from the hole. It was a red-figure Saturday by 7:15.
Woods's Saturday wardrobe suggested he meant business. He took to the course garbed in a black camo-print shirt to accompany his black hat, black pants and black shoes. The featured groups are old hat by now, but it remained strange watching the caddies of Thomas and Rory McIlroy begging fans to stop walking while their players were hitting. But with Tiger Woods in the group, any other metric of golf hierarchy goes out the window. "Hey Justin," one particularly bold onlooker shouted to the World No. 2. "Could you kinda, y'know, squat down so we can watch Tiger?"
To his credit, Woods remains conscious of the effect his every action has on the rest of the field. He held off tapping in for par at No. 9, knowing the roar that even a three-footer would elicit, while Peter Uihlein teed off on the adjacent 1st. But the first sign that this would not be a day of destiny came at the 10th green. A strong tee shot and short approach left Woods with a straightforward up-and-down, but he tugged an uphill five-footer for par and missed left. Bogey.
At No. 11, Woods fired a two-iron down the center of the fairway with a tight draw. It was the first of many; while the soft ground conditions aren't conducive to a worm-scaring stinger, Woods pummeled the short grass with that two-iron all the way around. The other best part of his game was the silky tempo with which he hit his wedges, also on display at No. 11: Woods hit his approach to two feet.
Woods introduced two more of the day's themes at No. 12. He blocked his driver off the tee and three-putted for a loose bogey. "That basically kind of stemmed the momentum a little bit," he said.
The rest of Woods's round was steady but largely uneventful. His playing partners found better luck; Thomas made a series of birdies on the back nine en route to 65 while McIlroy won honors for top highlight when he holed a flop shot on the 14th. Woods scared the hole with several mid-length birdie putts but managed just one more, set up by a flawless driver-three wood and two putts at the par-5 17th.
"I just have to make birdies," Woods said. "This golf course is stacked right now and everyone is bunched."
Woods stared down a five-footer for par at the 18th green for quite some time. He remained four under, six shots off Gary Woodland's lead, and knew what it would mean to fall any further behind. No problem: He rolled it in the center and looked relieved as he fished it out of the bottom of the cup. He, Thomas and McIlroy shared a laugh as they left the green. It was just after 10 a.m., and there's something particularly satisfying about completing an early round of golf. They were eager to escape for a brief rest before the third round got underway.
"I'm gonna go eat," Woods announced with excitement. "We've got a long afternoon ahead of us."
Two hours later, the Tiger Woods that teed off in the third round looked very similar to the locked-in player that had roared to four front-nine birdies the afternoon prior. His opening two-iron hadn't even reached its apex before he'd plucked his tee from the ground and strode back toward his bag. A wedge, a putt and a fist-pump later and Woods's six-shot deficit had become five. Playing partners Stewart Cink and Webb Simpson exchanged a grin. It's not like this in every group.
"Just like before," Cink said, reminiscing of days when Cink and Woods would both be on a major leaderboard. "On top of that, we're coming to a place that hasn't seen this kind of golf tournament in quite a while, and the last one that was here had no Tiger Woods at it."
The fans had taken note by now: This tournament very much featured that Tiger Woods. He turned to a reliable recipe at No. 2: Iron down the middle, flighted wedge to five feet and a birdie putt in the center of the cup. The roar was even louder as fans packed in five and six and 10 rows deep to catch a glimpse of the man on the move. Two under through two.
Woods missed with his next two tee shots: left on 4 and right on 5. He handled No. 4 with ease, skipping a pitch from 40 yards to inside a foot. He changed shirts as he walked down the 5th; he'd sweat through the light green shirt in which he'd begun the round and swapped it out for a blue number. No doubt Saturday's unplanned restart had thrown off his scripting.
Perhaps the shirt took a hole to warm up, as Woods three-putted the 5th before turning on the jets. He spent time rehearsing a cut swing at the 200-yard 6th and then sent a ball into the sky that started at the green's left edge, cut toward the flag and stuck with a thud on the front of the green.
"We're able to hold four-irons, five-irons, whatever we want, right at the flags," Woods said. His 11-footer for birdie went just as planned.
You've already read another version of what happened at 7. Two-iron down the middle left Woods with a short iron that he positively flagged for another birdie. It's worth stressing again: Woods is hitting his wedges with a smooth, measured tempo that suggests trust and confidence. He hit another one at No. 8 to six feet, setting up a third straight birdie. Woods was eight under now. If only he could get a couple more, the crowd murmured. That would set him up for a Sunday charge, no matter what the other leaders did.
Except then Woods's charge stalled. He made a standard two-putt par at No. 9. He made a satisfying par at No. 10, getting up-and-down from 84 yards to salvage a 4. Then he made a string of disappointing pars, 11 and 12 and 13 and 14 and 15, each time facing a birdie putt inside 20 feet.
"I feel like I could freewheel it because I had good numbers all day," Woods said of his stellar iron game. "I wasn't stuck between clubs all day today."
Par at 16 is a good score on any day — unless you're Matt Wallace, who made an ace — but par at 17 is less so, particularly given Woods faced 20 feet for eagle and just four feet for birdie but missed both.
"I left pretty much every single putt short on the back nine," he said. "The greens were getting fuzzy, they were getting slow, and I didn't hit the putts quite hard enough. And I made sure on 17 I did. And I blew it by about four feet and then pulled the next one."
He took out the three-putt frustration on a crushed tee shot down the 18th fairway, which led to a final look at birdie from 15 feet, but he couldn't get that to the hole and tapped in for par. It was the last in a string of 10 pars in a row to finish a day when pars were fine but no better than that.
"I thought I played really clean cards, really clean rounds," Woods said. "And I just wish I could have got myself a couple more shots closer to the lead."
He's right, of course. Just one player — Adam Scott, who shot 65 — went lower in the third round. By day's end Woods found himself in a share of 6th place. Is it close enough to the lead?
There are things that Woods did Saturday that are wildly encouraging. He has found a rhythm with his two-iron off the tee and is firing at flagsticks nearly every time he has a clean look. He has discovered a reliable driver swing, too, committing to a cut most of Saturday despite Bellerive's tendency toward right-to-left holes. And he made a series of putts, too. It is more difficult to find things to nitpick, particularly after a round in which he hit 15 of 18 greens.
But not all is perfect. All season, Woods has gotten off to hot starts and struggled to complete rounds. He did so at Sawgrass and Muirfield and Carnoustie and more. The problem may be mental or physical; it may be pressure or fatigue. But it doesn't seem to be coincidence.
"I don't know why I haven't played the back nine as well as I have in the past," Woods said earlier in the week. "Who knows?"
Saturday night, he was done wondering. Asked about a potential rally for his 15th major, he was understandably dismissive. "A long way to go before that happens," he said. It's not out of the question, of course. Woods is in the third-to-last group and four shots back of leader Brooks Koepka. He was in the exact same position at Carnoustie three weeks ago. For now, Woods can enjoy a night's sleep.
"I'm tired," he said. It was easy to believe. "I am definitely tired. Twenty-nine holes, it's not necessarily the physical, it's this mentally grinding that hard for 29 holes in this heat.
"It was a long day."