AUGUSTA, Ga. — The mystique of the Masters Tournament — aka, the intense intrigue and awe felt by tens of millions of envious golf fans every April — died Thursday. It was 63.
The mystique had been ailing for years, a victim of extended TV coverage, eye-popping high-definition and 3D broadcasts, and the miracle of Google Earth, which allows curious observers to explore the course as freely as they would their own backyards. But the official cause of death was the stunning shot-tracking technology that Augusta National introduced on Thursday. Through the Masters app and website, users can now watch every shot struck by every player in every round of the tournament.
Every shot.
This is a phenomenal development, of course, and truly mind-bending stuff. The golf world could barely contain itself Thursday morning as word of the Masters newest whiz-bam tech — it not only allows you see the flight of every shot but also view video highlights of said shots — made the rounds.
Mankind's 5 Greatest Inventions:

1. The wheel
2. Printing press
3. Electricity
4. Internet
5. Masters shot tracker

— Two Inches Short (@TwoInchesShort) April 11, 2019
The Masters shot tracker is, without exaggeration, man's greatest creation

— Wally Brennan (@wbrennan52) April 11, 2019
I am not exagerating when I say that the player shot tracker feature on the masters app is the most advanced piece of technology in society today. It is remarkable. @RiggsBarstool @ForePlayPod @FrankieBorrelli @BarstoolTrent

— levi (@levirics) April 11, 2019
Those thuds you just heard were Chris Schenkel and Bud Palmer rolling over in their graves. Schenkel and Palmer called the first televised Masters in 1956. Back then, you got four holes, and, dammit, you liked it. That's how it was for 14 years. In 1972, the Sunday coverage extended to the final seven holes, meaning viewers got their first glimpse of Golden Bell, one of the world's great and most vexing par-3s. But still, the Mystique endured. More than half the course remained shrouded in mystery.
In recent years, though, the Mystique came under fire. In 2002, CBS extended its Sunday telecast to 18 holes. Then came featured group coverage, streaming from Amen Corner, even Masters on the Range. Masters on the Range! Was nothing sacred?! Alas, no. In 2018, CBS rankled traditionalists when it incorporated its shot-tracer technology into the broadcast. Viewers no longer needed to envision the circuitous flight path of a Bubba Watson tee shot at 13 — a yellow line did it for them. The Masters.com content team now has its own writers, producers, social-media sharpies. Its Instagram account has more than half a million followers, and its Twitter following is nearly one million strong. The Masters is out there, baby.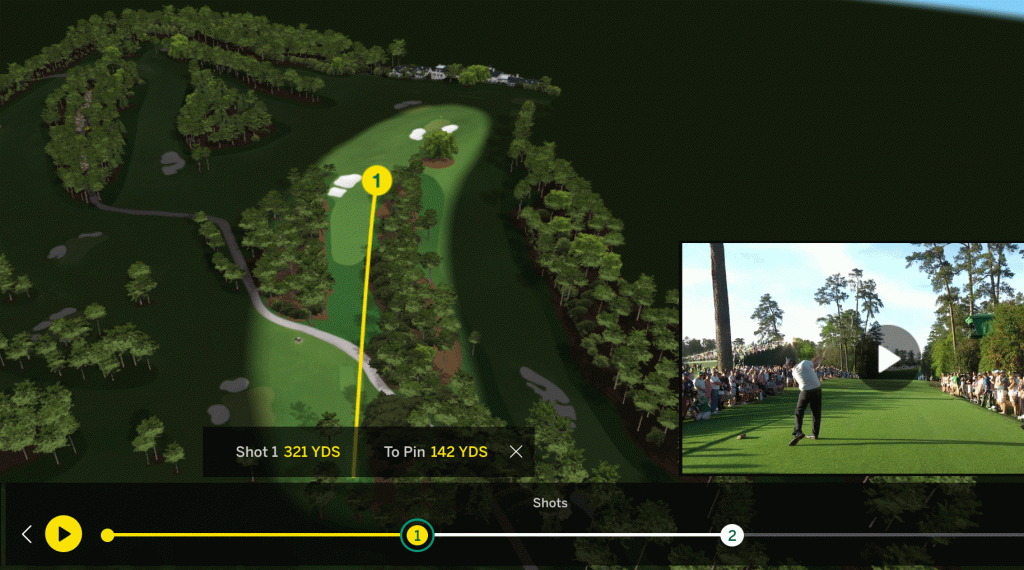 ---
Still, viewers couldn't see every shot struck in the tournament, not even close. That would be just silly. There are typically 90 to 100 players in a Masters field. That equates to roughly 7,000 shots in any given round. Surely the tournament couldn't possibly capture all of those shots, cut them into bite-sized video highlights and post them onto their digital platforms in a matter of minutes. Surely they could. And did. The green coats, as they're wont to do, pulled off the impossible. And now the rest of golf's lording bodies — the PGA Tour, the USGA, the R&A — will race to catch up with their own coverage.
The Tour is already on the warpath. Earlier this week, in a survey the Tour distributed to its Fan Council — a group of hardcore fans — it asked for feedback on a potential "new cable television and digital streaming media property that will provide the most comprehensive coverage of the PGA Tour from first tee shot to last putt each day of competition."
The Masters used to leave fans wanting more. Now it has them wondering, What will do they next? Build a retractable dome to control course conditions? Develop ball cams? Beam holograms of Tiger, Phil and Amen Corner into viewers' living rooms? Whatever happens, the Masters' curtain is drawn, its long-guarded secrets revealed.
The Mystique is dead. RIP, old friend.
To receive GOLF's all-new newsletters, subscribe for free here.