Tour Confidential: Brooks Koepka's PGA win, LIV golfers at the Ryder Cup, a club pro's major moment
Getty Images
Check in every week for the unfiltered opinions of our writers and editors as they break down the hottest topics in the sport, and join the conversation by tweeting us @golf_com. This week, we discuss Brooks Koepka's PGA Championship victory, what's next for the Ryder Cup and more.
Brooks Koepka won the PGA Championship at Oak Hill Country Club in Rochester, N.Y., to claim his fifth major title, as he held on to a 54-hole lead he wasn't able to keep at the Masters last month. What impressed you most about Koepka's week? And in hindsight, should we be surprised he won this one?
Sean Zak, senior writer (@Sean_Zak): How slow it was. It was a slow, plodding 72 on Thursday. Then nine pars to open his second round. Only on the back nine Saturday, when everyone was worried about Corey Conners, did it start to get real. But this is what Koepka did at Bellerive and at Shinnecock and at Erin Hills. He works his way through the breaks of the game in the first few rounds, grabs a lead on the weekend and his grip is tighter than most. We should not be surprised in the slightest. He gave us a great warning in Georgia.
Zephyr Melton, assistant editor (@zephyrmelton): His killer mentality is back. These sorts of performances were the standard in the late 2010s, but the last several years have shown a more vulnerable BK. This week, he showed us that he still has that mental edge that makes him so dangerous in golf's biggest events.
Jessica Marksbury, multimedia editor (@Jess_Marksbury): After watching Koepka play so well at Augusta, it seemed like a foregone conclusion that he would contend this week. But it's still so, so impressive to watch him, as Sean said, plod along. It wasn't flashy, just consistently good. That even-keel-ness is enviable, and his mental strength is clearly his primary differentiator.
Josh Sens, senior writer (@JoshSens): But what stands out to me is the Ruth-ian call he made on Saturday night. He said he'd learned from his mistakes. He promised it would be different. He said he had it sorted. It sounded almost… inevitable? Not many golfers make those kinds of forecasts; everyone knows you shouldn't tempt the golf gods and all that. One of the things he seemed to have clearly learned is not to be in a rush only to get stuck waiting on too many tee shots. The way he took his time over short putts, in no hurry to get to the next hole — the man was not going to let himself get Cantlay-ed again.
Koepka battled injuries, his swing and his confidence over the past year-plus, but he's now followed up a lackluster 2022 major season (two missed cuts, nothing better than T55) with a T2 and a win. Is there a chance this version of Koepka is better than the one that ruled the major championships a few years ago?
Zak: I don't think so? And I'm not sure we'll ever know. We only have two more events this year where BK will play against the best players on the planet in a 72-hole, 144-person tournament. That's no LIV critique. It just is what it is. I think he'll need to win the final two majors to elevate above where he was at his peak a few years ago. I'll bet against it and hope that he does it. It's way too fun watching him make it look easy.
Melton: I can't imagine this version of Koepka is going to be better than BK 1.0, if only because of the scar tissue he's now built up. Five years ago, there was zero doubt Koepka would win if he got to the top of the leaderboard. In the time since, we've seen some lackluster Sunday performances. Although he reversed that trend this week, the scars from those wounds remain.
Marksbury: I don't think this Koepka is better than the previous version, but chip-on-the-shoulder Koepka has proven to be the best version of Koepka, at least in terms of major performance. I can't help but wonder if the defection to LIV, plus the close-call at the Masters, may have given him just what he needed to re-awaken that aspect of his personality to channel it accordingly.
Sens: Maybe not better, but an even more impressive climb to the top. He sounded so completely defeated in that Full Swing episode. Better or not, though, he's obviously back. Can't wait to see him in the final group with Rahm or Scheffler at LACC.
PGA professional Michael Block was the talk of the tournament, as the 46-year-old teaching pro from California turned heads with not only his play, but his easygoing, relatable persona (and an unbelievable ace on Sunday). Block, who tied for 15th, wasn't short on publicity this week, but was what he accomplished an overrated or underrated storyline from the PGA? Can you put what he did into context?
Zak: The context will come over the next decade or so, when no other PGA pro does what he did. And when PGA Championships pass without a single club pro making the cut. That's the reality! He broke reality this week. It is not overrated in any sense. Did it get overplayed? You can have that opinion, but I'd call you un-fun. It was a delightful appetizer or dessert, or both!
Melton: Was it overplayed? Maybe. But it sure was fun to watch. It's always cool to see a new personality inject some juice into an event. As far as context goes, that'll become clearer in hindsight.
Marksbury: Underrated, for sure! It's no secret I'm team #clubpro. My husband is one, and many of our friends are. What Michael Block accomplished this week is extraordinary. It's so, so hard to just qualify for a place in the PGA Professional Championship, let alone get through that to the PGA Championship. Making the cut is everyone's goal once they get there, and as we know, it's rare. Actually contending like Block did is like a unicorn-level dream. It was a blast to watch him achieve something incredible, and to do it with gratefulness and humility, man. Gave me chills. It's what sports are all about.
Sens: Ordinarily, I don't have a lot of stomach for all the saccharine the networks sprinkle on these kinds of stories. But everything about Block's run — that hole-in-one was almost enough to make me believe in fate — right down to his teary post-round interview, deserved the coverage. It would have been a hard one to overplay. And mercifully, we only got a few bad "Block party" puns from the media along the way.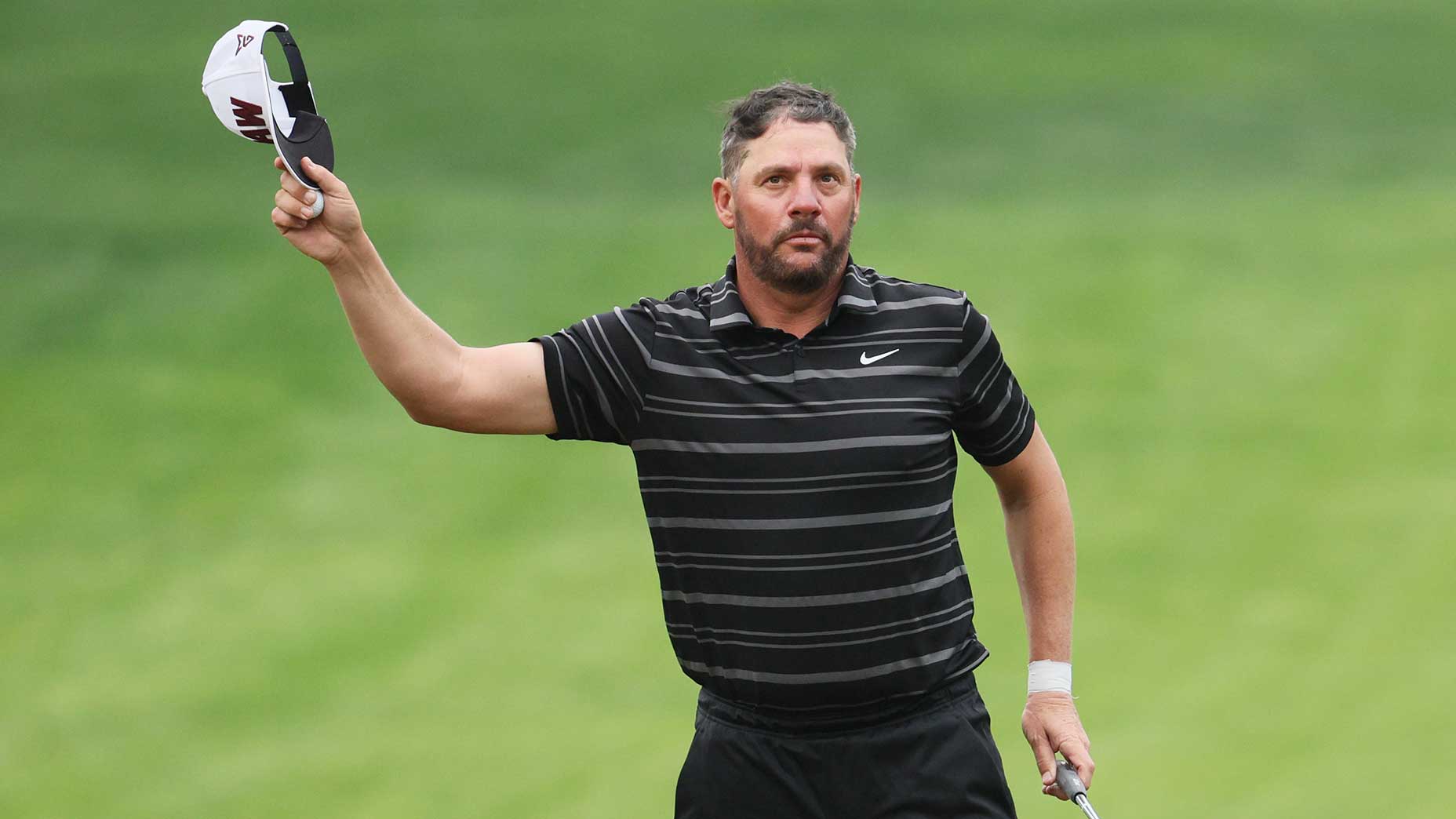 In large part due to Koepka, but with the help of others, LIV Golf followed a strong showing at the Masters (three in the top six) with another at the PGA Championship (three in the top 11). Is LIV Golf's slightly lighter schedule allowing its player to stay rested and perform better in majors, or is this just a convenient coincidence?
Zak: I think the light schedule is a convenient coincidence. Koepka was upset before the Masters at the lack of reps he got in ahead of the first major. You don't get to feel that way and then also applaud the light schedule. I don't think Cameron Smith is thriving via the light schedule.
Melton: It feels like coincidence. If the trend continues over several years, then perhaps we can revisit this conversation, but the sample size is too small to draw any definitive conclusions at this point.
Marksbury: Small sample size, yes. But I think there might be something to it. Jordan Spieth made headlines recently for admitting he's tired. Rory paid a huge fine to back out of the RBC Heritage. The PGA Tour's designated event schedule has made the top players seemingly busier than ever. Add to that the long days, weather delays, media obligations … LIV players are definitely carrying a lighter load. How valuable is that? It will be interesting to see how things play out at the remaining two majors.
Sens: Nah, unless we're going to blame rust for any LIV player who misses the cut. The schedule is a distant second to the simple fact we've known all along: LIV snagged a handful of the world's best, including multiple major winners. The talent doesn't just vanish because they're now playing on teams with goofy names.
Ryder Cup captains Zach Johnson and Luke Donald both addressed the media at Oak Hill, and while they didn't give too much away, they didn't exactly close the door on LIV players representing their respective Ryder Cup teams. Based on what we know, will any LIV golfers play in the Ryder Cup? And how critical, for the U.S. specifically, is Johnson's decision to include or exclude them if it comes down to picks outside of the top-six auto qualifiers?
Zak: Brooks Koepka will play in the Ryder Cup. I think his relationships with the Jupiter collective of pros — who will factor into the team building — will make it much easier to accept him. I don't think Bryson has that going for him. And I don't know that Dustin Johnson will be in as impressive of form, though I bet he'll get a look.
Melton: It feels like Koepka solidified his spot on the Ryder Cup team with his performance on Sunday. But even if he (along with the other LIVers) doesn't get included, Team USA has plenty of depth to win the Cup in Italy.
Sens: I partly agree with Zephyr. Koepka will be on the team, but an upstart European squad will win.
Marksbury: If Koepka's not on the U.S. team, I think we're in for some serious drama. Especially if the U.S. loses.
Oak Hill Country Club hadn't hosted a PGA Championship since the 2013 PGA, but the East course, which had some work done since, seemed to be one of the stars of the week. How would you grade the host venue, and where would you rank it among recent non-Masters major venues?
Zak: This is what I want from major championship hosts: A) a course that makes pros uncomfortable on the tee AND hitting into greens; B) a course where double bogey is out there on every hole, but two great shots earn a look at birdie; C) a course where the championship committee can make any hole play wildly different on consecutive days. (On four consecutive days? WAHOO!); and D) a town that embraces their week to shine. This week was check, check, check, check. Four-and-a-half stars from me. Slot it right in next to Southern Hills and bring the event back there every 15 years.
Melton: The course was excellent. It was hard, but not U.S. Open hard, and it made for some great viewing. I'd love to see it host the PGA again in the future.
Sens: Grade A on the venue. Right there with Southern Hills, though I suspect we have an even better one coming up in June.
Marksbury: Totally agree with the ranking, guys! I liked it. A B+ from me, and the weather was the only real damper. The PGA has taken some heat for a seemingly uninspired list of future venues, but if they're all set up to produce a week like this one, all will be well!