Pebble oddities, Rose's LIV decision, one epic 7 | Monday Finish
Getty Images
Welcome back to the Monday Finish, where we hope you have a great time reading the column but just ask you to refrain from throwing any full beer cans. Let's get to it!
FIRST OFF THE TEE
The forgotten Euro.
Justin Rose sat at a microphone late Monday morning at Pebble Beach and explained his decision to remain loyal to the PGA Tour.
"I made the decision based upon blind faith," he said following a three-stroke Monday Finish (ahem) victory at the AT&T Pebble Beach Pro-Am. "Hope to win. Hope to put myself in the situation. My game hasn't produced many of those opportunities of late. But still have had that belief that it's possible. So to be in the situation on the 18th green at a place like Pebble holding a trophy, like, that's what it's for."
If you look at LIV's roster, you'll notice a number of Rose's contemporaries. In fact, 40-something European Ryder Cup vets are arguably the defining figures of the circuit. Sergio Garcia. Ian Poulter. Lee Westwood. Graeme McDowell. Henrik Stenson. And so on. But not Rose, who at 42 still hopes for as many cracks as he can get at the sport's greatest events. He said he'd considered the possibility of LIV — who hasn't? — but never got particularly close to a deal.
"I mean, access to the major championships is a large part of my decision to be playing where I'm playing, for sure," he said. "Obviously playing in events like this that have a great history, that give access to iconic golf course, all of those things. Winning events that really matter."
Rose, who won the 2013 U.S. Open at Merion, made it clear that he wasn't judging the actions of his LIV peers, saying that he tries to "keep his nose out of it" and that "everyone has their own parameters" when it comes to decision-making. But he emphasized that a pathway to major championships was his priority.
"I have won one, but that's where my childhood dreams lay. Having access to that was really, really important to me going forward," he said.
Rose hadn't missed a major since before the 2010 Open at St. Andrews, per the AP's Doug Ferguson, but his status for this April's Masters was in question, given he'd slipped to No. 71 in the world. (The top 50 qualify.) His intention was to play his way back inside the top 50. But now? He's done it. The win ensures he's in. And he's up to No. 35 in the world for good measure.
"It's funny how by winning, you earn the points and everything takes care of itself," he said.
(Navigate the week's hottest topics in audio form with our Drop Zone podcast on Apple here, Spotify here or below.)
WINNERS
Who won the week?
JUSTIN ROSE'S MOVING GOLF BALL
On Saturday, midway through his second round, Rose hit a terrific 5-wood to about three feet on the 9th green at Monterey Peninsula. But when he got up to the green, something funny happened: The wind started blowing his ball farther and farther from the flag. He ended up with something like a seven-footer.
Rose said the ball of his amateur playing partner was blowing around the green, too. After consulting with a rules official, tournament staff applied some water to the green. That didn't seem to help. And so play was suspended. Not just for Rose's group, nor just for Monterey Peninsula, but for the entire tournament. Play wouldn't resume until Sunday.
When it did, Rose rolled in his birdie putt and was on his merry way; he took advantage of improved conditions to make three more birdies and an eagle on his back nine to take the tournament lead.
"Yeah, that was a break. That was definitely a break," Rose said. "I guess if you are out here long enough on Tour, occasionally you catch a good break. So that was a good one."
DOUBLE BOGEY AT THE LAST
Daniel Gavins needed to make 7 on the final hole to secure a victory at the DP World Tour's Ras Al Khaimah Championship. He began with a dreadful tee shot (shot 1) down the right side, which found the lake so immediately that he was forced to re-tee (now hitting 3). After finding the fairway, he ripped fairway wood at the green (hitting 4) — only to find the water again.
After dropping (5) he pitched onto the front of the green (6) and promptly rolled in a 26-footer (7) to secure a one-shot win. You can forgive his glum reaction; Gavins said he didn't know he'd won outright. But check out the entire roller coaster ride below.
ABRAHAM ANCER, WIRE TO WIRE
Abraham Ancer opened the Saudi International — an Asian Tour event that doubled as a sort of LIV preseason event — with a round of 63. He never looked back, closing with 66-64-68 to win by two.
It was a sign that Ancer's game — which got him to T11 at the Open and T9 at the PGA Championship last year — is still very much there; this was a field with plenty of talent, and he sailed to victory. He also picked up valuable world ranking points in the process, climbing from No. 37 to No. 26.
ALMOST-WINNERS
So close.
BRENDON AND BRANDON
That would be Brendon Todd and Brandon Wu, the co-runners-up at Pebble Beach thanks to impressive final rounds. Todd made seven birdies and an eagle in his final-round 65, while Wu made four birdies and an eagle in a bogey-free 66. Both finished three shots back but gained important points, cash and experience in the process.
PGA TOUR EMISSARIES
Cameron Young and Lucas Herbert finished second and third, respectively, at the Saudi International. They also have the distinction of being PGA Tour players. And while this was largely a LIV affair, Young, Herbert and Cameron Champ applied for waivers through the PGA Tour. It was a strong showing for the podium boys, while Champ finished T35. All three are still planning to play the WM Phoenix Open and, as far as we know, will continue to play the PGA Tour going forward.
NOT-WINNERS
Misplaced stones, etc.
The Swilcan Bridge has been through it this week. Photos first appeared of the St. Andrews landmark with a new rocky "patio" — an effort to combat wear and tear on the grass on either side.
People did not like that. Photoshops emerged of picnic tables and deck chairs on the new stones. Outrage ensued.
My take? I'm not Scottish, so perhaps I don't have a right to chime in. But I can't help but wonder if we let these stones settle in for a couple months and took a shot from a different camera angle that we wouldn't just say meh and get on with it.
But St. Andrews took a different approach and instead chose to walk the whole thing back; they announced on Monday that the stones are going away! A big win for admitting you're wrong. Must have been a confusing week for the bridge, though. Snip-snap, snip-snap. You have no idea the emotional toll that sort of thing takes on a venerated stone institution.
LIV MOVEMENT
What we know.
While LIV still hasn't made formal announcements about new player signings, there are two guys you can safely move to the "LIV" pile: Mito Pereira and Sebastian Munoz. This is hardly breaking news; multiple outlets have reported on both. But it's worth noting that Pereira and Munoz played at this week's Saudi International without bothering to get a waiver from the PGA Tour, which should signal their intentions.
In a world where they'd plan to return to the PGA Tour, skipping the waiver step would lead to some sort of disciplinary action. But so will teeing it up at Mayakoba for the first LIV event of the season; we'd expect to find both guys there.
COURSE TALK
The quirks of Pebble Beach.
There are a few Tour courses so iconic that it's fun to observe how pros attack them. Pebble Beach is one such course. Let's buzz through a few holes using ShotLink data:
No. 1: The Walkoff
I'm always intrigued by the "shortcuts" pros can take in certain situations. That includes No. 1 at Pebble Beach, a 382-yard par-4 that typically demands just an iron or fairway metal off the tee. But when you're 10-over par, as Dylan Frittelli was when he reached the hole (his 10th of the day) in his third round, you're more liable to let loose. Notice where Frittelli's 337-yard outlier came to rest: just short of the green!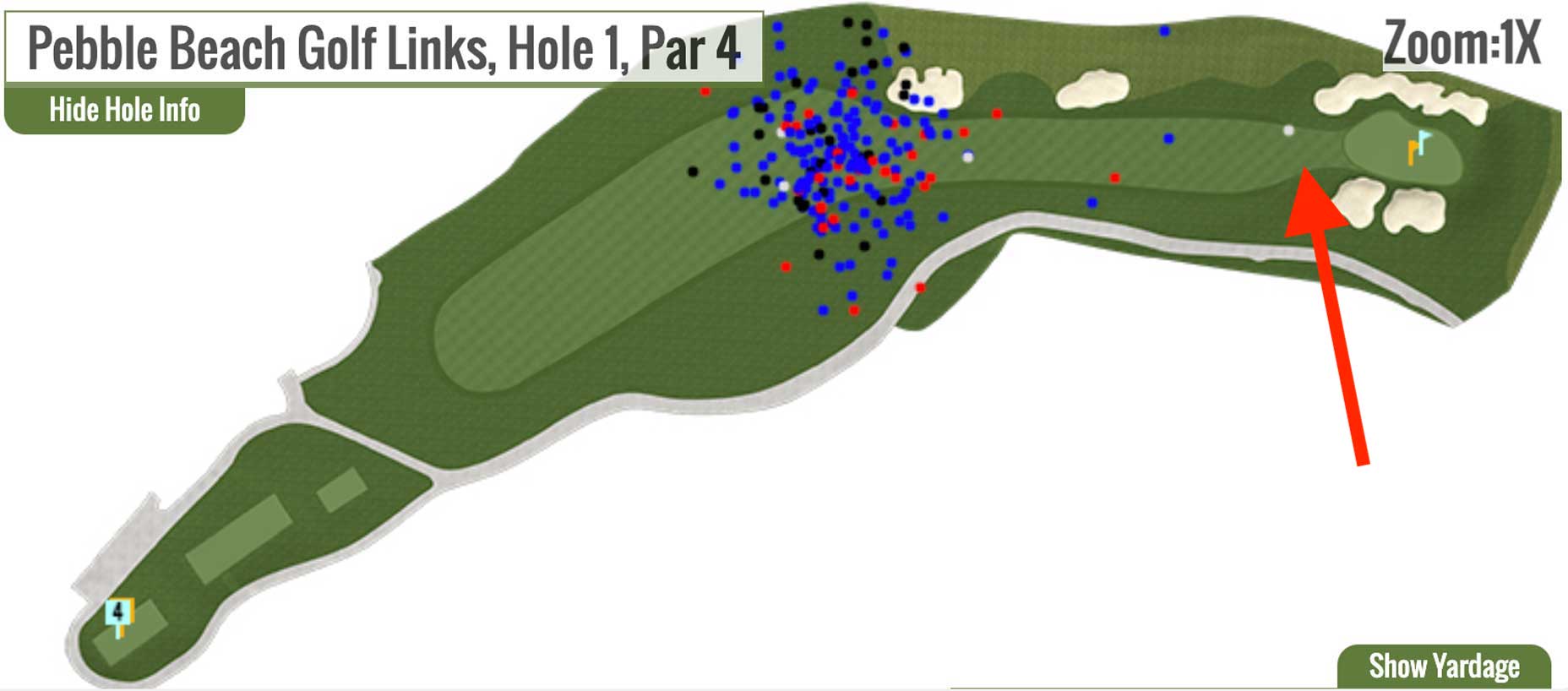 In a strange turn of events, that's when the horn blew, ending play on Saturday. Frittelli withdrew from the tournament that evening. As a result, one of the boldest lines in the hole's history doubled as Frittelli's final shot of the tournament.
No. 3: The Shortcut
The best drive at the 393-yard par-4 third hole came from Kevin Yu, whose tee shot in the opening round nearly found the front of the green. He was left with just 75 feet for his second shot, but didn't end up taking advantage — he chipped it 18 feet past and two-putted for par. Stress-free 4, though.
Yu's week only got better from there; he finished T7.
No. 4: Raw Power
With No. 4 playing downwind on Saturday, Charles Porter went full send at the uphill par-4 fourth hole, and nearly got there — he was left with just a 30-yard pitch shot.
Porter was probably particularly freed up because he'd hit three tee shots out of play (water left, water left, O.B. right) on No. 18 en route to a 10.
No. 6: The Anti-Pacific
There continues to be a significant percentage of the field that wants zero part of the 6th fairway and will just bail out way left instead. How's that going for them? Fairly well. If you see the dots left of the cart path in the scatter plot below, you'll see that plenty of guys who hit it far enough and far enough left made birdie (red dots) despite uneven lies in the rough. Not how the hole was designed, sure. But it's not the players' job to play it as designed.
What's the point? The point is for the right bomber with the right wind (switching at the right times), you could theoretically have pitches or putts for eagle at No. 1, 2, 3, 4 and 6.
Just a few more quick ones …
No. 8: Long and Left
I'm intrigued by Kevin Tway's approach to what is typically a forced layup at No. 8:
No. 14: A Tale of Two Drivers
I'm impressed by whatever Marcel Siem did on his corner-cutting tee shot at the par-5 14th:
And I'm admittedly curious what happened on Alex Smalley's tee shot on the same hole, which traveled 195 yards shorter than Siem's and in fact made it just 152 yards.
That feels like enough ShotLink screenshots for one week. But every dot has a story …
NEWS FROM SEATTLE
Monday Finish HQ.
I have discovered the joy of indoor shoes.
Sure, I've had a pair of Allbirds for a few years. And I've put those occasionally into play in our Seattle place. But this Christmas, I was gifted two pairs of indoor shoes — one set of slide-ons and one set of like, high-top L.L. Bean slippers — and my home life has changed significantly for the better.
I had no idea how much heat I was losing through my chilly feet. Consider an investment ASAP. Or maybe I'm the last one to this party and you've all been rocking incredible indoor shoes for years.
WHAT'S NEXT?
3 things to watch this week.
1. Golf on Netflix!
We're just a week out from the release of Netflix's PGA Tour doc. And exciting news from the Monday Finish: I'll be making some appearances in the show! Much more to come from this experience, but in the meantime, plan to set aside six or seven hours next week to dive into this thing.
2. The PGA Tour's new beginning.
This is the first week we're really going to see the PGA Tour's new "product." What does that mean? This is the first full-field "designated event," which means (basically) all the top Tour pros are playing, which means Rory McIlroy is making his return to TPC Scottsdale alongside big-time stars like Jon Rahm, defending champion Scottie Scheffler, Justin Thomas, Collin Morikawa, Patrick Cantlay, Xander Schauffele and, well, you get the idea. Mayhem.
3. An awesome cliffside muni.
In advance of a big-time year for Los Angeles golf, we trekked to L.A. to test out the golfing soul of the place and will roll out some videos and articles, including Part 1, which you can see on YouTube here or in the video player below.
See you next week!