Max Homa isn't normal. He's far more interesting than that
Stephen Denton
IT'S POSSIBLE, MAX HOMA SAYS, that we have him all wrong.
"For a while, with the social media stuff, people were all like, 'Man, I'd love to have a beer with that guy,'" he says. "Well, I don't know if you really would."
We're not getting beers, but we are having lunch at Whisper Rock, a Scottsdale, Ariz., oasis frequented by the area's A-listers, from pro athletes (think Michael Phelps) to pro golfers (think Jon Rahm) to pro caddies (think Jim "Bones" Mackay), plus a slate of golf-mad local businessmen with both the financial wherewithal and connections to belong. There are two 18-hole courses at Whisper Rock: the Upper, designed by Tom Fazio, and the Lower, designed by Phil Mickelson. There's also an egg-roll salad, Homa's favorite, that has just been placed in front of him. It looks delicious.
I'm curious how Homa — who grew up in Los Angeles County, went to his hometown Valencia High School, attended Cal-Berkeley and still bleeds Dodger Blue — likes living here. He admits that he still sees himself as a Californian, but Homa and his wife, Lacey, have been in Scottsdale for four years. They have roots here now too: They welcomed their first child, Cam, just a couple weeks before our mid-November lunch. So why Scottsdale? By way of explanation, he tells the story of his first Arizona haircut.
"The lady asked what I do for work," he says.
"I'm a professional golfer," he told her, expecting follow-ups.
"Oh, man," she said. "Another one."
At lunch, Homa grins. "It doesn't make you cool or special to play golf here," he says. "That's what I like about it."
Away from the golf course, normalcy is Homa's instinct. That has always played well with fans, too — we like a dash of relatability mixed in with our favorite athletes' transcendent talents. Homa endeared himself to golf fans long before he was one of the best in the world, thanks to his Twitter account, where he unleashed a steady stream of deadpan humor, Tour insight, sports commentary and swing roasts. (One example: "Even if I tried to save this video on my phone, I think it'd cause a virus.") That became his brand.
"The way he tweets at people, roasts 'em, all of that? That's exactly who he is," Peter Pappageorge, Homa's best friend, told me over the phone. "Off the course, at least."
When Homa's working, though, his coach Mark Blackburn sees a different side.
"The humor and stuff, that's entertaining, but that's not really him," Blackburn said in early December at the Hero World Challenge, as Homa wrapped up a practice session. "I think of Max as a cerebral guy. A deep person. A thinker. I mean, he's always thinking. And determined as hell."
These days, Homa's game has, arguably, surpassed his personality. He's fresh off his fifth PGA Tour victory (the 2022 Fortinet Championship) and a 4-0 Presidents Cup debut. He's reached a career-best ranking of No. 15 in the world. And, at age 32 — a pretty late bloomer in Tour terms — he's become a formidable closer and a respected winner.
That leads us to the essential question of Max Homa: How can such a regular guy morph into a cold-blooded closer? But if you talk to him and those around him, if you hear the way he thinks and the way he works, if you watch the way he performs under the gun, you'll realize the question misses the point. Homa is not normal. He's far more interesting than that.
FOR TOO LONG, Homa says, he was chasing a ghost.
"When I was first on Tour, on the range, I would go see, like, K.J. Choi hitting a bunker shot, Rory hitting a driver, Tiger hitting an iron, Justin Thomas chipping it. And then I'd go, 'Well, jeez, I can't do any of these.'"
He stops to take a bite of his egg-roll salad.
"And it's like, 'Yeah, dude. Only one f—ing person in the world can.' Which sounds obvious now, but, like, that literally cost me three years. I didn't know what great golf looked like, and so I made it up in my head, and the version in my head was far too good."
Homa describes the arc of his career like a Magic Mountain roller-coaster ride: some early ups and then some significant downs. After graduating from Cal in 2013, Homa came out of the gates hot. He logged a T-9 finish at the Frys.com Open, his first event as a pro. He finished T-6 at Q-School just a couple months later, easily qualifying him for a full Korn Ferry Tour schedule in 2014. The season went well thanks to a win at the BMW Charity Pro-Am; he finished 17th on the money list and earned his full PGA Tour card for the 2015 season.
But success was hardly linear from there. Homa didn't play well enough to keep his card and dropped back down to the Korn Ferry for the 2016 season. He played his way back onto the PGA Tour for the 2017 season — and then played his way back off the Tour again.
This time it wasn't just the fact that Homa had lost his card; it was the manner in which he did so. He'd made just two of 17 cuts and earned just $18,008. He'd fallen outside the top 800 in the world. He couldn't keep his driver on the planet.
"It's one thing to be bad at your job or to struggle," he told the No Laying Up podcast a couple years later. "It's really hard to be legitimately embarrassed to be out there. I'm playing against Tiger Woods and Phil Mickelson and Rory McIlroy, and I'm shooting 80. I think one tournament I lost 14 shots to the field in total driving. It's just like, 'What are you doing out here, dude?'"
It wasn't the hard work that was missing. Homa recalls a punishing range session following a missed cut at the Wyndham Championship, the final tournament of the 2017 season. He'd lost his card. He'd lost his swing. He'd lost his mojo. But he pummeled ball after ball into the Friday afternoon sky, searching anyway. Eventually, he found it.
ALONGSIDE TIGER WOODS, Homa's favorite athlete is likely Kobe Bryant. And there's a framed quote that used to hang beside Bryant's locker: the Stonecutter's Creed.
Look at a stonecutter hammering away at his rock, perhaps a hundred times without as much as a crack showing in it. Yet, at the hundred and first blow, it will split in two, and I know it was not the last blow that did it, but all that had gone before.
It's funny to think that a self-aware, self-deprecating athlete like Homa would be so fundamentally affected by a motivational quote. But to hear him tell it, finding the words felt like a turning point. Homa's golf game didn't turn around — not right away, at least. But his attitude did.
Homa has always struggled with self-confidence, so he went out of his way to try to fake it. Every morning he'd try to convince himself that that would be the day that the rock started to break. "Today's the day, dude!"
Today's the day. One swing at the stone at a time. Homa set a resolution. "I just wanted to leave a mark of resiliency. I thought that would be who I am. Some people are great at hitting a 7-iron. Some people are great at putting. I'm gonna be the toughest guy you've ever met."
The stiffest test of toughness came at the end of the 2018 season. Homa's second relegation to the Korn Ferry Tour had some bright spots, but he arrived at the regular season finale, the Winco Foods Portland Open, needing to make the cut to earn one of 75 spots in the three-tournament KFT finals. With nine holes to play, his chances looked all but gone. An eagle at No. 11 gave him some hope, but a bogey at 14 seemed to seal his fate.
But then he hit it tight at No. 15 for birdie. He made a 30-footer for birdie at No. 16. He hit it tight again at No. 17. And then he hit the par-5 18th in two, setting up his fourth consecutive birdie, locking up No. 73 in the standings in the process.
Those remain, arguably, the four most important holes of Homa's career to date, because they unlocked what followed. Two top 10s in Korn Ferry Tour finals meant Homa was back to the big Tour. This time, he'd be ready.
The urgency of that moment stayed with him. Homa's work ethic has become his calling card — not just the hours he puts in but the intensity with which he attacks them.
Xander Schauffele, one of Homa's friends on Tour, marveled at his commitment.
"I don't know if everybody knows how much of a perfectionist Max is," he says. "He gets really into it. He loves talking shop. Big golf guy. And he's constantly, constantly tweaking. He'd probably be out practicing and working for days at a time if he didn't have to, like, eventually have lunch."
That checks out. During the photo shoot for the cover of this magazine, Homa spent every spare moment holding an imaginary club and rehearsing an imaginary takeaway. I asked what he was working through. "Opening the doorknob," he said mysteriously.
Homa's caddie and right-hand man, Joe Greiner, joins us partway through lunch. He muses that you'd be hard-pressed to find a harder worker on Tour.
"He's a golf dork," Greiner explains. "And he likes it that way."
Homa's obsession with improvement doesn't stop at his own game, Greiner says. It also shows off his generosity of spirit. He's just far more patient with everybody else's game than his own.
"When we're not at a tournament, Max will hit me up, asking for videos of my putting stroke," Greiner says. "You come to town and he'll pick you up at the airport. And, like, Joe Skovron will be shooting 80, and Max will be grinding on Joe's golf swing or consulting on one of his putt reads. That's not common."
Skovron, longtime caddie for Rickie Fowler and now Tom Kim, counts Homa among his close friends.
"What's so unique about Max, and one of the things I like most about him, is that he feels zero entitlement, but he also has this growth mindset," Skovron says. "He's a guy who constantly wants to get better. He doesn't have to pretend to be humble; that's just who he is. But then he has this killer instinct, this need to accomplish things, and he wants to go work for them. That combo just isn't true of many people in any walk of life."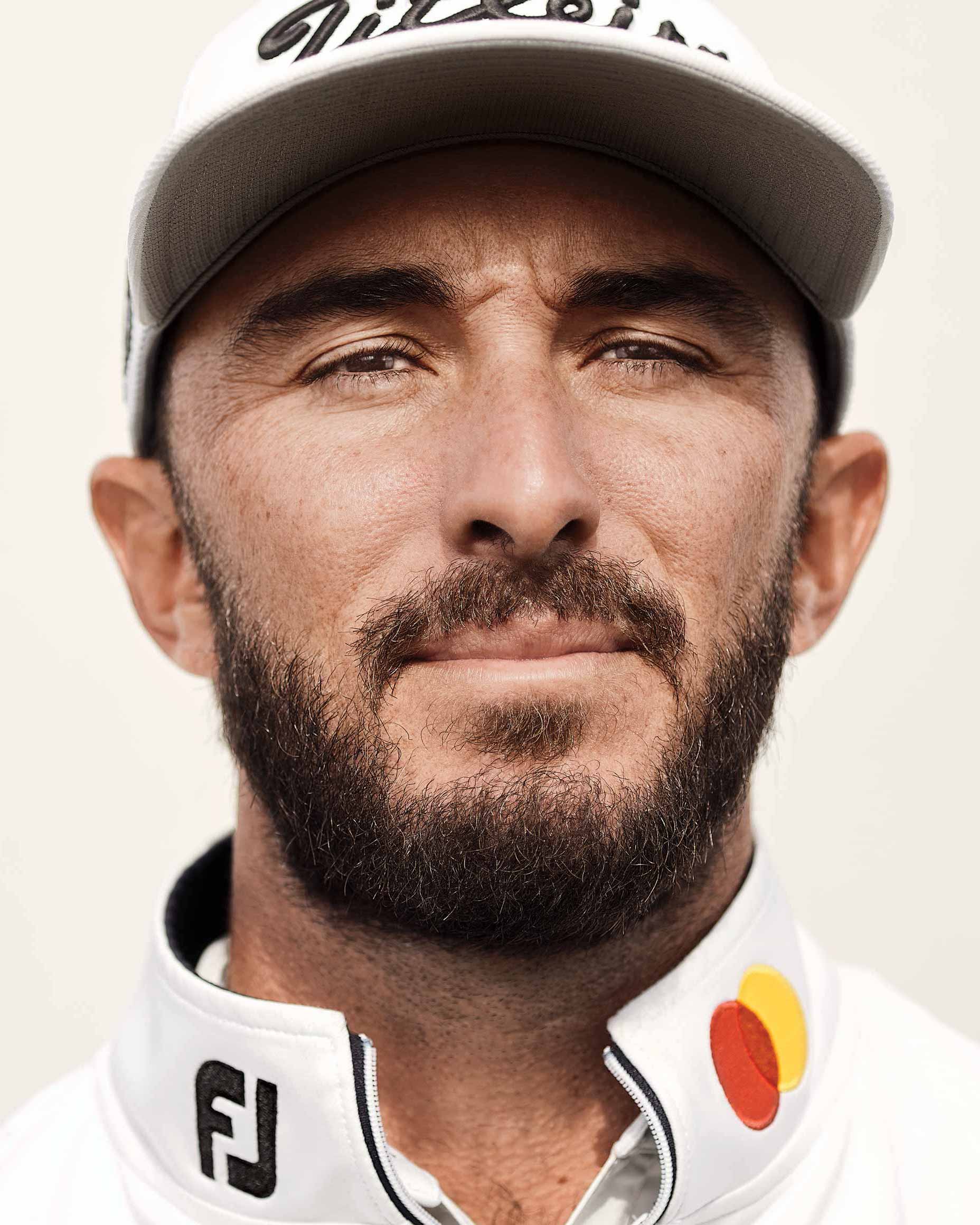 LEGENDARY DODGERS broadcaster Vin Scully, a mainstay of Homa's childhood, was once asked what made him so successful.
"The humility to prepare," he said. "And the confidence to pull it off."
On his best weeks, Homa has both in spades. Of all the stats that surround his career, one stands out: At the end of 2022, between the Korn Ferry and PGA Tour, his had eight top-three finishes. Seven of those were wins. He's never finished second. When Homa gets himself in the mix, he tends to get the job done.
"He runs cold," Blackburn says. "He may have some anxiety on the inside, but when he gets in contention he's like a serial killer. He gets a sniff of it but doesn't get rattled. He's extremely comfortable. The hardest part is getting into that position, of course. But once he's there, he knows what to do. That's a superpower."
The breakthrough winning moment came in the spring of 2019, when Homa, paired with Rory McIlroy in the final round, closed with 67 to beat a loaded Wells Fargo Championship field by three. Just months before, his Korn Ferry status had been in question. Suddenly, he was a made man. Greiner yelled to him as he walked up the final fairway, tournament in hand. "Soak it in!"
"That felt like the end of the sh–," Homa says. "And the beginning of something good."
Pappageorge saw a shift in his buddy's mindset.
"Maybe that's all it took," he says. "That one tournament. That one round. Look, he'd never backed down from anybody, but to go toe-to-toe with Rory in a final round and wind up kicking his a–? What can't you do after that?"
Homa had caught the ghost.
Still, once again, success didn't follow quickly. His Wells Fargo win came in May — and it was his last top 20 of 2019. There was plenty of searching between then and September 2020, when he took a meeting with Blackburn after a frustrating missed cut at the U.S. Open at Winged Foot.
"I screened him first at the Westchester Marriott," Blackburn remembers. "We looked at, okay, this is what your body wants to do, this is what you're trying to do and here's where that clashes."
They played a round at Westchester Country Club the very next day, and Homa found a full repertoire of shots at his disposal. He played with trajectories. He flighted wedges with ease. Homa bought in.
"If Max believes in you, he's the absolute best person to work with, because he will put his trust in you completely," Greiner says. "I knew Mark was really good, and Max pretty quickly became, like, the perfect student."
The three became a tight-knit team. With Blackburn's help, Homa realized that the best way to combat a shortage of confidence was by shoring up his fundamentals. They started with mechanics and built from there.
"He was never the jokey funny Twitter guy when it came to his golf game," Blackburn says. "He was always serious, and there was always some anxiety, and he wanted to have answers. He has this hamster-wheel brain. And so he needs pragmatic solutions and explanations that include, okay, here's the cause, here's the effect, here's the why, what and when."
ULTIMATE SATISFACTION. That's how Homa describes the night of February 22, 2021, as he and Greiner left the clubhouse at Riviera. They were the last ones on property, two L.A. kids who'd just won the Genesis — Tiger Woods' tournament, Los Angeles' tournament, the one they'd grown up attending.
"I can still picture us, like, from above, out of body, walking to the parking lot that night," Homa says. "Winning a golf tournament lives up to the hype but maybe not how you'd think. It's not the winning so much as the validation of, hey, all those little things? All that sh– you did? You did the right things."
A highlight reel of winning sprawled out across the 18 months that followed. Frustrated by barely missing the 2021 Ryder Cup team, Homa went to Napa and won the Fortinet Championship. The following spring, he returned to the Wells Fargo and won again. He played well at the Tour Championship, posting the third best score at East Lake and finishing a career-high T-5 in the FedEx Cup. In his next start, a return to the Fortinet, he chipped in at No. 18, then watched as Danny Willett three-putted from four feet to make Homa a repeat champion.
Homa and Greiner flew directly from Napa to Charlotte for the 2022 Presidents Cup. The week that followed served as Homa's official coming out party: He arrived at Quail Hollow a five-time PGA Tour winner, including victories in four of his last 41 starts. His Team U.S.A. debut checked off another bucket list dream.
The highlight of the week came on the 18th green on Friday night. Homa had just holed a birdie putt at No. 17 to put himself and partner Billy Horschel 1 up over their Canadian opponents, Taylor Pendrith and Corey Conners. Now, Homa and Pendrith each faced birdie putts at the challenging finishing hole. Every fan still on property ringed the final match of the day.
Before Pendrith putted, Greiner approached Homa and muttered in his ear, "We want him to make this. That way, we can make it on top of him."
Sure enough, Pendrith's 13-footer found the bottom of the cup, sending up a cry from the international fans.
Then came Homa, who now faced a putt to win. He straddled his line. Studied the break. Slowed things down.
"It was pretty surreal. The atmosphere out there is insane. There's so many people, you can feel them on the back of your neck," he said afterward.
Of the thousands looking on, gazing intently into the fading sun, Homa was the first to know it was in. By the time the ball rattled into the cup, he'd already broken the silence of the masses with a bloodcurdling scream.
FROM THE OUTSIDE LOOKING IN, Homa seems to have things well in hand. He and Lacey are settled comfortably in Scottsdale, baby and dog in tow.
"I think your patience does go up immediately," Homa says of fatherhood. "Like, he's screaming, but there's no reason — he's just fussy. Lacey will laugh because I'm already getting trained up. He's there screaming on my chest and I'm watching TV with the subtitles on."
There are elements of his life that will shift. Less Call of Duty, perhaps. But all the important stuff will stay the same. Good walks. Good time with friends. Good practice sessions. The Everyman stuff too: Bud Lights and football and member-guest shenanigans. But Homa likes things simple. Whatever he says, this is definitely a guy you'd like to have a beer with.
"I enjoy sitting at my house," he says. "If my friends could all live at my house, it would be my perfect lifestyle."
I wonder if all the winning has made Homa content with what he has — or hungrier for more. He pauses.
"This is a sh– answer but, honestly, both," he says. "From where I was in 2017 to now? I do have an appreciation for every new thing we get to do. The Presidents Cup. The Hero World Challenge. That stuff is so cool."
At the same time, his personality isn't compatible with being fully content. "It's just the game of golf," Homa says. "I think it's athletics. Might just be life. You get to a new stage and you think, If I can just be here, everything will be good. And then you get there and realize, No, I want to do better."
There's plenty more to accomplish. He hasn't yet had major championship success, which is surprising given his play at tough courses. He expects that to change. Joe Greiner does too.
"When he's around the lead, he's incredible," the caddie says. "He doesn't choke. But there's still this holdover, early in the week, where he needs Thursday and Friday to validate himself. To remember he belongs."
After we've ticked through his career highlight reel, Homa adds something else. "Some of my favorite moments are off the course, just me and Mark and Joe," he says. "I'm playing well enough that now we have to figure out how to make little jumps. Tiny jumps. And finding them is hard, but it's addicting. Hitting a shot that you've worked on but haven't tried yet and then pulling it off under the gun and it works? Hell yeah."
His goals are tiny and they're expansive. Greiner's most common go-to is focused on the present: one good shot in a row.
But big picture, Homa is focused on the biggest prize of all.
"It used to be just to get better every day," he says. "Now, I just decided to make my goal to be No. 1 in the world. Every day, if you ask yourself what the No. 1 player in the world would do, at least you're doing what you can. And also, like, of course your goal should be No. 1 in the world.
"Why the hell else would you play?"
The author welcomes your comments at dylan_dethier@golf.com.