As the coronavirus has brought the world to a grinding halt, you might have found yourself reassessing your priorities. We certainly have. But you know what, it's OK to still love golf. In fact, we've found ourselves loving it more than ever. (What's that old saying — absence makes the golfer's heart grow fonder?) But after a six-week-or-longer golf drought in many parts of the country, an increasing number of courses are beginning to reopen, bringing back an increasing number of golfers — responsibly — to America's fairways. To mark golf's return, we asked our team of writers and editors what they're aspiring to do as they reacclimate to the game, with the goal of inspiring you to do the same.
*****
1. Support your local muni
After being locked in a cramped apartment for the better part of two months, there are many things I aspire to do on the course when I am finally able, but I think playing more municipal courses has to top the list. I've seen too many courses shutter for good during this unprecedented crisis, and when I'm able to play again, I'm going to do my best to support these rugged gems. My only round this year was at Pinehurst No. 2, but I guarantee it won't be more special than my first round back out on a New York City muni. — Zephyr Melton
2. Resume the quest for the perfect putting stroke
I've spent my entire life tinkering with my putting, in search of the secret, to no avail. It left me quite disheartened towards the end of last season. I won't lie: There were times when I was left wondering if I was tinkering too much with my putting. That maybe I was my own worst enemy. That I should just pick something and stick with it, because putting is a simple art which need not be overcomplicated. I did some soul-searching and eventually realized that was, obviously…ridiculous. I hadn't been tinkering too much with my putting. I hadn't been tinkering enough with my putting. So, when I get back rolling again in 2020, I'm kicking things up a notch. I'm about to lean — hard — into the crazy. No stone will be left unturned, and when offseason rolls around, I'll be living proof that there is indeed a singular secret to good putting, and I, Luke Giles Kerr-Dineen, have discovered it. — Luke Kerr-Dineen
3. Stop and smell the fertilizer
Before stay-in-place orders, I was already spending too much time on my phone. Since the orders, I dread seeing my screen-time report notification at the end of every week. We're losing out on time outside but we sure aren't losing out on time inside with our phones. My iPhone has essentially become an extension of my arm. In the absence of sports on TV, I was struggling to find something to watch recently when I stumbled upon Ferris Bueller's Day Off. It's one of those movies I just can't pass up. One line took on a new meaning for me, "Life moves pretty fast. If you don't stop and look around once in a while, you could miss it." That mantra hits closer to home now more than ever. Getting back on the course is at the top of my to-do list and when I do, it's time to put my phone away, stop and look around. Tweets can wait. I'll text my friends back later. No one wants to see a video of my swing on Instagram. I don't want to miss out on any more time spent on the course. — Tim Reilly
4. Don't procrastinate. Just buy the damn putter!
This job has some perks and that is never more clear than right now. About a year ago I visited Ping headquarters in Scottsdale and got the full campus tour, from club creation to the golden putter room. It culminated in an exclusive putter fitting, the kind they give to pro staffers like Bubba Watson and Tony Finau. Ping's fitting lab provides quite the experience. You climb up on a gigantic putting stage, rap a couple of 10-footers that get analyzed by Ping's putting computers, which spit out a consistency grade. Based on the data pulled from just five putts, you'll know (really, they'll know) if the flatstick model you're using makes sense for your stroke. Turns out, my super-straight stroke called for a Karsten TR Anser 5 blade putter. What a thrill! A putter made for me. What did I do with that information? I smiled and went on my way, and then spent a summer testing similar blade putters we had lying around the GOLF.com office. Simple solution, Sean: just buy the damn thing! We waste too many rounds (and years) of our golfing life matching our game to equipment. Here in Wisconsin, about 1,000 miles away from my gamer set, that is quite apparent. So, when our normal golf world returns, yes, I'll be buying the damn putter. — Sean Zak
5. Make a Covid era fashion statement
I hate to sound like a dandy, but I do love my golf accoutrements: leather head covers, fancy metal ball markers, engraved flasks and other such small luxuries bring me pleasure, both for their fine craftsmanship and the memories they stir, as each piece usually comes with a story. Now that face-coverings are becoming a way of life on the golf course, I'm not gonna just tie on a bandana, like a down-market Wyatt Earp, or wear a medical mask as if I had just escaped from the E.R. No, I need something stylish and unique, which sent me on a long search to the nether regions of the Internet. I wound up purchasing two gaiters, one in black and one in white, to maximize the chances of being properly color-coordinated with my golf togs. I'm not going to link to these items because then some of you might buy them, too, and then in my eyes they would become less cool, in the manner of discovering an underground rock band and then renouncing your fandom when they have a hit single. The point is, the Covid era is bringing new inconveniences to the golf experience but also opportunities. Expensive leather bags and bespoke golf shoes are sooooo 2019; if you want to make a statement these days, find yourself a cool face covering. — Alan Shipnuck
6. Have a beer. Maybe two. And a burger, too
A well-run food and beverage operation can be a significant revenue stream for golf course operators. But it's the only revenue stream for servers and bartenders returning (hopefully) to work at public and private clubs all over the country. Make a commitment to enjoy a proper meal the next time — nay, every time — you head over to your local or anywhere you play that offers one. I know I will. A hot dog and a beer at the turn is nice, but it's even better if you can grab your partners, see a menu and spend a few bucks to support the folks hit hardest by the shutdown. Sure, your time is valuable, and you've got things to do. Just remember what you would've given to be able to sit down to a post-round meal with your golf buddies when all you could do was practice chipping in your backyard by yourself. Dining at the course is an easy way to return to a sense of normalcy while helping out these hardworking men and women. And for God's sake, over tip! — John Ledesma
6½. No, seriously … have a beer!
I don't remember what I shot that summer day at New Berlin Hills Golf Course in Wisconsin. I maybe birdied one, very likely double-bogeyed two and probably parred a few to complete a 12-, 13- or 14-over round. I do remember what I drank that summer day at the clubhouse at New Berlin Hills Golf Course. I absolutely put down one hoppy IPA, which was on tap, served to me by the bartender in a cold mug and enjoyed on the outdoor patio with two of my friends as we added up the birdies, double-bogeys and pars. I totally remember doing similar at the wooden bar at Dunwoodie Golf Course in Yonkers, N.Y., at the video poker bar at the now-closed Black Mountain Golf Course in Las Vegas, and on the picnic benches outside the clubhouse at Elmwood Park Golf Course in Omaha, Neb. If there's one thing every golfer should aspire to do when golf is "back," it's to crack open a beer, sip on a mixed drink or enjoy a soda or water – to soak in that not only is our game back, but so is that meaningful time after the game. Your friends will remember it. (I actually texted my friends if they remembered our New Berlin Hills beer six years ago. They sure did.) The clubhouse workers — many of whom have been hit hard by this pandemic — will remember it. (And hey, leave a tip!) You'll remember it. Cheers! — Nick Piastowski
7. Plan a (long-weekend!) golf trip to Ireland
We're all going to have to ease back into this golf thing. First, nine holes at your local course. Then, in a few months, maybe early next year, a quick jaunt to Scottsdale or Palm Springs. At some point — no one knows when, but sometime — golfers will once again board a 747 and jet overseas for a bucket-list golf adventure. It might sound like a daunting proposition at this moment — an overnight flight, organizing tee times 3,000 miles away, the cost. But it needn't! A few years back, to celebrate the expiration of my brother's bachelorhood, my bro and I, along with 10 of his friends, pulled off a three-day golf trip to the west coast of Ireland. We hired a driver to tote us around in a mini-bus, but, other than that, handled all the travel arrangements ourselves. The itinerary: overnight flight Wednesday into Friday from New York to Shannon. Pitstop at the Cliffs of Mohr before a morning tee time at Lahinch. Eighteen glorious holes. Pints on the Lahinch rooftop. Van ride to our 10-bedroom Airbnb manor house (complete with personal chef!). Eat. Sleep. Wake up. Long drive to Friday round at dreamy Waterford. Long drive back home. Eat. Sleep. Wake up. Eighteen more holes at Dooks, one of Ireland's great sleeper courses. Back home. Eat. Sleep. Wake up. Two-hour ride back to Shannon. Fly home. It was a relatively relaxed itinerary by golf-trip standards — those 54 holes over three days could easily have been 90 holes — but it also felt like a bargain. Flights were less $500 (this was in April), our per head boarding costs were only $300ish and the golf was about another $600. Throw in a few stouts, a couple of lost bets and an Aran sweater or two, and I'm not sure anyone in our group spent more than $1,500. Point is, folks: If you do your own planning and travel at the right time of year, you can do an Ireland golf trip on the relative cheap and it needn't eat up 10 or even 7 days. So, use this downtime to put a bug in your golf buds' ears — brighter golf days are ahead. — Alan Bastable
Use this downtime to put a bug in your golf buds' ears — brighter golf days are ahead.
8. Treat yourself. You've earned it!
The last time I purchased new irons, I was 13 years old. I had just received my confirmation and with it a small sum of money from family and friends. I figured if I played my cards right, I could turn my few hundred bucks into two or three years of Slurpees and candy. My dad had other plans. The week after the service, we drove to a nearby sporting goods store. Before I realized what was happening, we were in the golf section, browsing through left-handed clubs. He presented me with an offer: If I put all my confirmation money toward new clubs, he'd pay for the remainder of the set. It was that grand bargain that sparked my love affair with the sport and spurred my development into the course-sleuthing, golf-writing neophyte I am today. After nine wonderful years (and a disproportionately large number of shanks), it's time to retire my first adult set of irons. The second I'm out of the house again, I'm headed to my nearest clubfitter and celebrating with a brand-new set of sticks. With Father's Day right around the corner, maybe I'll even have the opportunity to return the favor to Dad. — James Colgan
9. Limber up in the layoff? Time to reap the rewards
I'm looking forward to seeing how my new stretching routine will impact the way I play. Living a life spent largely sitting indoors, I've developed a newfound appreciation for how significantly a solid stretching routine can impact nearly every movement. Early during this quarantine, I found myself groaning in pain every time I stood from a sitting position. So, I started doing the stretching routines offered by the Sculpt Society, a fitness app I'd downloaded at the end of 2019. Then I downloaded the Peloton app and followed a few of its stretching routines. Now, I've gathered bits of each of these stretching routines to create a 10-minute version of my own. I do that in the morning and at night and the results have been profound. Since driving ranges will be slower to open than the golf courses they serve, I'm excited to see how nimble and ready I can feel on the first tee and throughout my round without hitting a single range ball. Who knows, it might make me feel like that 20-something who could walk straight from the car to the first tee without even a hint of hesitation. — Ashley Mayo
10. Get your clubs, grips and bag game-ready
At this point, it's likely that your golf bag has spent a long time in the garage or closet. Surely you're excited for that first round back, but before heading to the course again, take the time to get your bag and clubs in order. Here's a quick 5-step guide that can help you prepare for your first golf outing: (1) Clean out your bag. Hopefully this won't take too long, but toss any loose garbage (old water bottles, scorecards, granola bars, etc.). If all your things are scattered with no organization, find a home for each item so you know where everything is. (2) Clean your clubs and grips! Blow the dust off, clean your grooves and wipe down your grips so your clubs are refreshed and ready to perform after the long hiatus. You'll keep the club from slipping in your hands, and maybe with clean grooves you'll be able to control the golf ball even better than before the long layoff. (3) Get dialed in. When is the last time you've had your loft and lies checked? Over time, clubs can get bent and throw off your yardage gapping and overall ball striking on the course. A club fitter, club builder or even a local pro can help get your clubs dialed in. Even better, go through a full bag fitting with an expert to ensure you're using the right clubs for your game! (4) Reassess your club setup. It's been a while since you've last played golf, so you need to familiarize yourself with your tools all over again. During your first range session, hit at least a few shots with every single club in your bag. Take note of the problem clubs that either need to be replaced or adjusted. (5) Promise yourself to practice better habits. After going through these steps, maybe you've realized how disorganized and dirty your golf bag is. Try to remember how good it feels to have an organized bag and clean golf clubs, and don't let it get out of hand again! — Andrew Tursky
11. Hit the road with friends
The world has taught us some eye-opening lessons over the past two months, one of which is that we humans — and golfers — are social beings, not meant for isolation. So now we have to make up for lost time, both with our friends and on the links. No need to jump on a plane just yet if you don't want to; let's make this boondoggle an easy weekend excursion. You'll need: Your car, your golf clubs, three to 11 friends — groups of four preferred! — and permission from your significant other. After that, you're set. We're blessed with great golf courses all over the U.S., so find a resort or cluster of two or three courses within 300 miles and pack up your Honda. It's perfect. Far enough to make it a trip while close enough to make it convenient. Leave on a Friday night after work, check into your spot and get ready for 36 on Saturday. Mix in a clubhouse lunch — keep pumping money back into those courses, people! — and then hit a local spot for dinner that night. Knock out 18 more on Sunday morning before you pulling into your driveway for dinner. What's great about road trips like this is you don't need a golf capital of the world to host your weekend. Just find a good spot with some decent lodging and a couple of solid restaurants with quality, affordable golf within a couple of 3-woods away. You'll bet with your pals, you'll top shots, you'll make birdies, someone will drink too much and you'll relax at night thinking just how great it is to have some normalcy back in your life. Friends and golf. They go great together. — Josh Berhow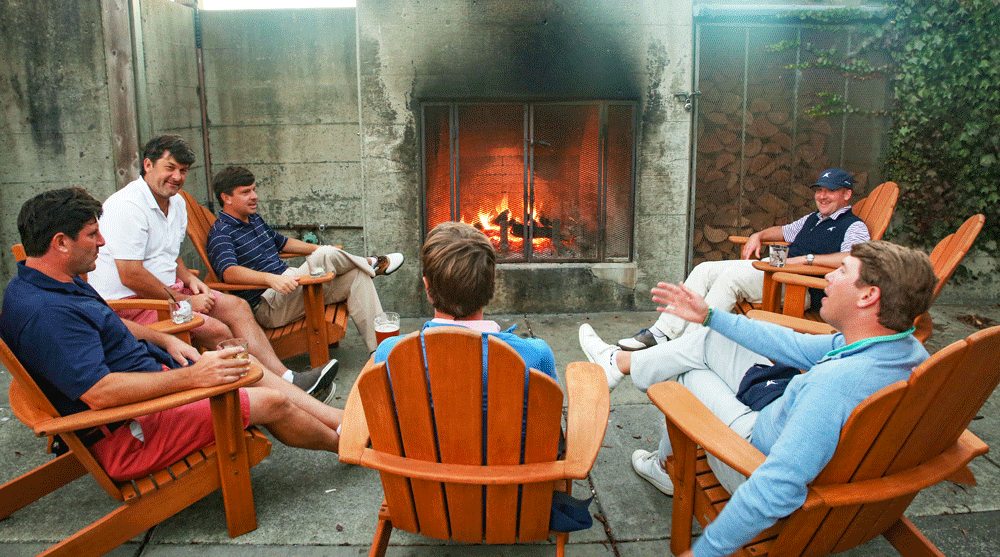 12. Learn to enjoy … Every. Single. Fleeting. Moment.
Don't get me wrong. I think you should get fitted for new clubs, and a new putter while you're at it. And since you'll have new sticks, a new custom leather carry bag should suit you nicely, along with a new pair of stylish shoes and a flattering new shirt stitched from moisture-wicking fabric. Go for it all, I say, so long as you remember that golf's greatest possession requires no purchase. The space between your ears isn't just home to your swing thoughts. It contains your outlook, and all else pales before it in importance. That this sounds corny doesn't mean it isn't true. There's nothing like a forced layoff from the game to lay bare why you play it in the first place. You play it for the fresh air and the recreation, for the inner-challenge and the outward competition, for the beauty of the landscape and the chance to bust the chops of your best buddies with a few bucks or maybe just your pride on the line. When you're playing the game as you know you ought to, you're shrugging off the bad shots and savoring the good ones. You're enjoying every single fleeting instance. You're being in the moment. You're being the ball. The Buddha taught a lesson that Ty Webb passed on later. The best things in life, and golf, aren't things. Your new clubs and your new clothes will grow old some day. Your mindset doesn't have to. When you get back to the golf course, no matter what you're swinging or what you're wearing, that is all you'll ever really going to need. — Josh Sens