How to be a more socially-conscious golfer
As the PGA of America's former senior director of diversity, Wendell Haskins has been a preeminent voice in golf, pushing for more diversity at every level of the game for years. A few weeks ago, I called him up simply to learn. To learn about why golf can be an intimidating one to newcomers, plus what I — and other golfers — can do to help grow the game in a way that makes it more inclusive, welcoming and fun.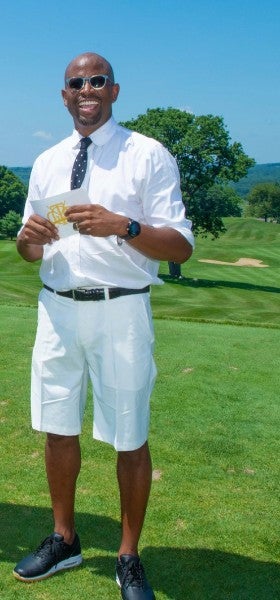 1. Advocate for diversity at your club
One of the first and most important ways golfers can promote positive change in golf is to simply speak out at whatever level you play the game, Haskins says. That means getting involved in the governing of your club and advocating for more diversity throughout, from the membership base to those employed by the club itself.
"Most people go and conform to the culture of a club. You generally pick a prestigious club because of what it already is, not because you're looking to go in there and change it up. Most people are indifferent towards some of those things, but indifference can be just as bad as being actively against something," Haskins says. "When I look around the room or the course or my membership, ask yourself: what does it look like?"
2. Welcome more people into the golf economy
Along those lines, helping grow the game of golf by promoting diversity within it means welcoming newcomers into the game. That often comes in two forms, Haskins says: Those who may be looking to take up the game themselves, but also those who may use golf as a means of employment.
"If you really want to help anyone, ask: how can I help them make some money? The answer is employment and opportunity. So, across the board, you need to welcome more people into the game and give them opportunity," Haskins says.
"Golf is an $82 billion business. We need people of color to have access to the golf economy."
3. Don't make excuses
Golf can be a complicated game, full of rules both written and unwritten. Often, having a pre-existing knowledge of the game can be used as an excuse for not welcoming new faces into the game. But allowing fresh perspectives into the game will open more pathways for talented, diverse people to change golf for the better.
"Golf needs to cast a wider net," Haskins says. "Attracting a more diverse staff can give the industry as a whole a heightened sense of awareness of how important that is. Don't get me wrong, there are times that golf is very nuanced, but if you got skills and you're a competent person, you can apply those skills to golf. We don't want to push talented people away because they don't know the minutia of etiquette on Day 1."
4. Support Black-owned golf businesses
And, something that extends far beyond golf, it's important to make a concerted effort to vote with your dollars, using them to support Black-owned golf business. That spans everything from Black golf instructors — where Haskins says the Black community is very underrepresented — to Black-owned golf courses, like Renee Powell's Clearview Golf Club in Ohio.
"[Clearview Golf Club] is a landmark," Haskins says. "This is a historic landmark piece of property that was hand-built by a Black man because of segregation, and particularly, segregation in golf."
"It's history, and a piece of property that all of golf needs to get behind to preserve it. It needs irrigation, it needs work, but Renee still runs it, and it's a great, local course, but it could be turned into much more of a gem, but the golf industry itself has not rallied around her. This is the female Jackie Robinson of golf who is keeping a golf course alive, kind of by hook or by crook. The entire industry needs to rally around Renee Powell to make sure that she has the resources that she needs to preserve an American legacy."
5. Tell the stories of groundbreakers
As Haskins notes above, it's incumbent upon golfers to champion the groundbreaking stories like those of Renee Powell, and rally around them as a community of golfers. It's one of the main reasons why Haskins endorses Lee Elder becoming an honorary starter at the Masters.
"A lot of people don't know that the first Black golfer to play on the LPGA tour, Althea Gibson, was a tennis star," Haskins said. "She picked up golf later on and played well enough to play on the LPGA Tour. Think about that. That would be like Venus or Serena saying, 'I think I want to pick up golf now," and play it well enough to play on the LPGA Tour.'
"Renee Powell is the second. Her dad served in World War II, and he loved golf. When he came home to Ohio, he wasn't allowed to play on the public golf courses, so he bought a hand seeder. He bought a dairy farm, he cleared it out on his own, on his spare time, and developed his own golf course so that people could play on it. These are the kind of figures we should rally around, as an industry."
6. Support historically Black colleges and universities
One of the most effective ways of helping golf become a more diverse, inclusive place is to support HBCUs, Haskins says. Steph Curry is passionate about the issue, and it's something recreational golfers should make a priority themselves.
"My alma mater, Hampton University, just had to eliminate its golf team because of the Covid-19 crisis," Haskins said. "I'm a part of a group right now that's going to try to see if we can at least put some money together to save Hampton's golf program.
"And look at what Curry did with Howard. Howard didn't even have a golf team. Curry stepped up and committed six years of funding to start the golf team, then he got Under Armour to come and back them and provide equipment, and apparel, and shoes, and things for them, to sponsor the Howard's golf team. It's tremendous, but we shouldn't have to rely on one individual to save a college program."
7. Push golf to create a Black agenda
Finally, Haskins calls on the industry as a whole to create what he calls a "Black agenda" — a plan to invest, nurture, support and grow the game among the Black community at the grassroots level, which will pay dividends for years to come.
"The Black golf economy needs a stimulus," he says. "Most of the resources in golf have been deployed to other predominately white initiatives."
"You can't just sit around hoping it's going to grow and hoping people are going to like it more and more, and that there's going to be some cosmic shift in minority golf if you haven't invested in it. If the golf industry values the potential of Black golfers and want them to be infused into the workforce and really grow the game, you have to invest in it. Everybody knows that anything you want to grow has to be nurtured, developed, and invested in, and believed in."