How practicing less made this Tour winner better than ever
Getty Images
The pain was in her back, but it struck fear in her heart.
Marina Alex had been working out twice a day during the Covid lockdown of 2020 — "I just didn't really know what else to do," she says. She exited lockdown feeling like she was in the best shape of her life. But as soon as she shifted back into the reality of being a tour pro, she felt her body start to falter.
"I didn't know any better, but I was definitely not golf shape," she said. "I put myself in a very vulnerable place because once I restarted walking, playing a lot of golf, traveling, my body was just like, whoa, what are you doing?"
It was her back. It felt stiffer than it used to, would occasionally lock up, and often hurt as she swung. Back injuries are killers for golfers. They can linger, and unlike other areas of the body, you can't alter your swing to avoid them.
"Bending, twisting, turning, moving," Tiger Woods once said, describing what triggers his back pain during his swing. "Other than that, I'm all good."
Alex made four starts in four events through August when her body began shutting down. She spent September recovering, pushing through pain with an eye toward the KMPG Women's PGA and U.S. Women's Open — a "mistake," she says, that would cost her the rest of the season.
"Finally, another doctor was, like, 'You really just need to take another seven weeks off of not swinging,'" she says. "I was, like', Already? I've already taken almost three months off!'"
It wasn't until March the following year that Alex was back to playing a full schedule, and even since, she's still practicing less than she used to. Yet she has accomplished the rare feat of getting better anyway. She's finished inside the top 10 three times this season, and capped it with a victory at last week's Palos Verdes Championship.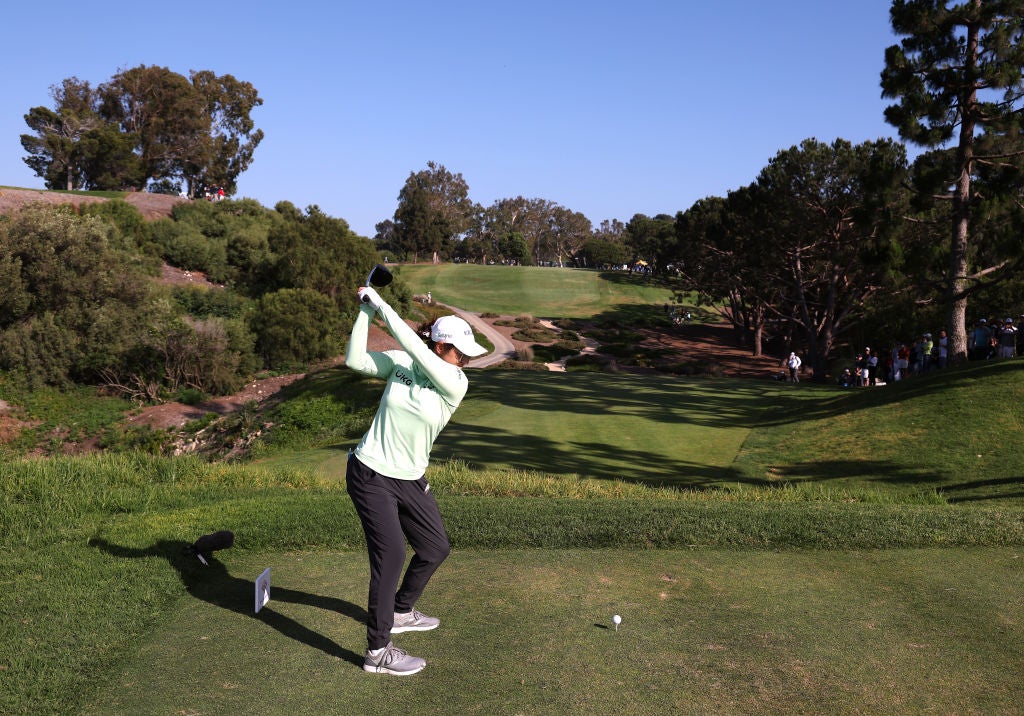 Specific goals, structured practice
Alex says she used to approach practice in a relatively simplistic way: By gathering a vague sense of what she needed to do, and pouring hours into it. But with back pain providing a hard stop to any problems overworking may solve, she pivoted into ultra-structured practice sessions. Alex structured her practice down to specific goals: What was the goal of her practice? What was she trying to improve? How was she trying to improve it? Why?
"I'd put myself on a ball count of, let's say, 30 swings on the range a day. I could maybe up that to 50 and really be disciplined in those extra shots," she says. "When you are limited to 30 balls a day, you can't do a whole lot. You're basically just trying to get through the bag. You hit a couple of pitching wedges, a couple 7-irons, a couple of 5s, a wood and a driver. The next thing you know you're at 30 balls."
Ultimately, Alex says, each practice session meant answering one question.
"What am I trying to accomplish here?" Alex says she'd ask herself each time she went to the range.
Often, she added, that meant picking and choosing her spots. In the past, she'd work on her swing constantly. Now, she divides that process. She saves making technical changes for stretches with fewer tournaments, and bookends busier stretches with "maintenance" practice.
"I just wanted to put in enough reps to feel like I could at least have some sort of command of that swing," she said.
Little by little she'd chip away. Some days she'd progress more than others.
"You do what you can when I was feeling good. When I wasn't feeling good, I would do whatever I could," she says.
But the numbers don't lie. She made 15 of 20 cuts last year and hasn't missed a weekend this year. She's inside the top 15 on tour in Greens in Regulation — her highest ranking in that statistic in more than four years — and her scoring average is the lowest it has ever been in her career. The injury may not have been something she wished for, but it helped her become a smarter, better golfer anyway.