Why isn't Tiger Woods wearing Nike shoes at the Masters? Here's a nerdy explanation
Getty Images
Welcome to Play Smart, a game-improvement column that drops every Monday, Wednesday and Friday from Game Improvement Editor Luke Kerr-Dineen (who you can follow on Twitter right here).
AUGUSTA, Ga. — It's hard to imagine how the sight of Tiger Woods roaming the fairways of Augusta National, less than 14 months after a car crash that almost led to an amputation of his right leg, could get any more surprising.
And yet, as he often does, he found a way — courtesy of his golf shoes.
Tiger Woods, the man who has been the face of Nike's golf brand since arriving on Tour, took to Augusta National on Sunday wearing FootJoy golf shoes. Was it a mistake? Some wondered. Did he forget his shoes? Then on Monday, he donned a white pair. Tuesday, too.

So what's going on here?
Tiger was asked about his shoes on Tuesday ahead of the 2022 Masters, where he spoke briefly and vaguely on the matter.
"I have very limited mobility now with the rods and plates and screws that are in my leg," he says. "I needed something different, something that allowed me to be more stable. That's what I've gone to."
He went on to say he's working with Nike on a new design and expects "something soon," but it all underlines an important — yet often overlooked — fact about your golf shoes: That the way your shoes are designed can have a noticeable effect on the way your body moves as you swing.
Avid runners think about this a lot because a lot of modern, sneaker-style shoes that have made their way into golf tend to have more padding under the heel of the shoes — that's called the "drop" of the shoe. This tends to make them comfortable, but it can often also pitch your foot up slightly, which shifts your weight more onto your toes when you're standing.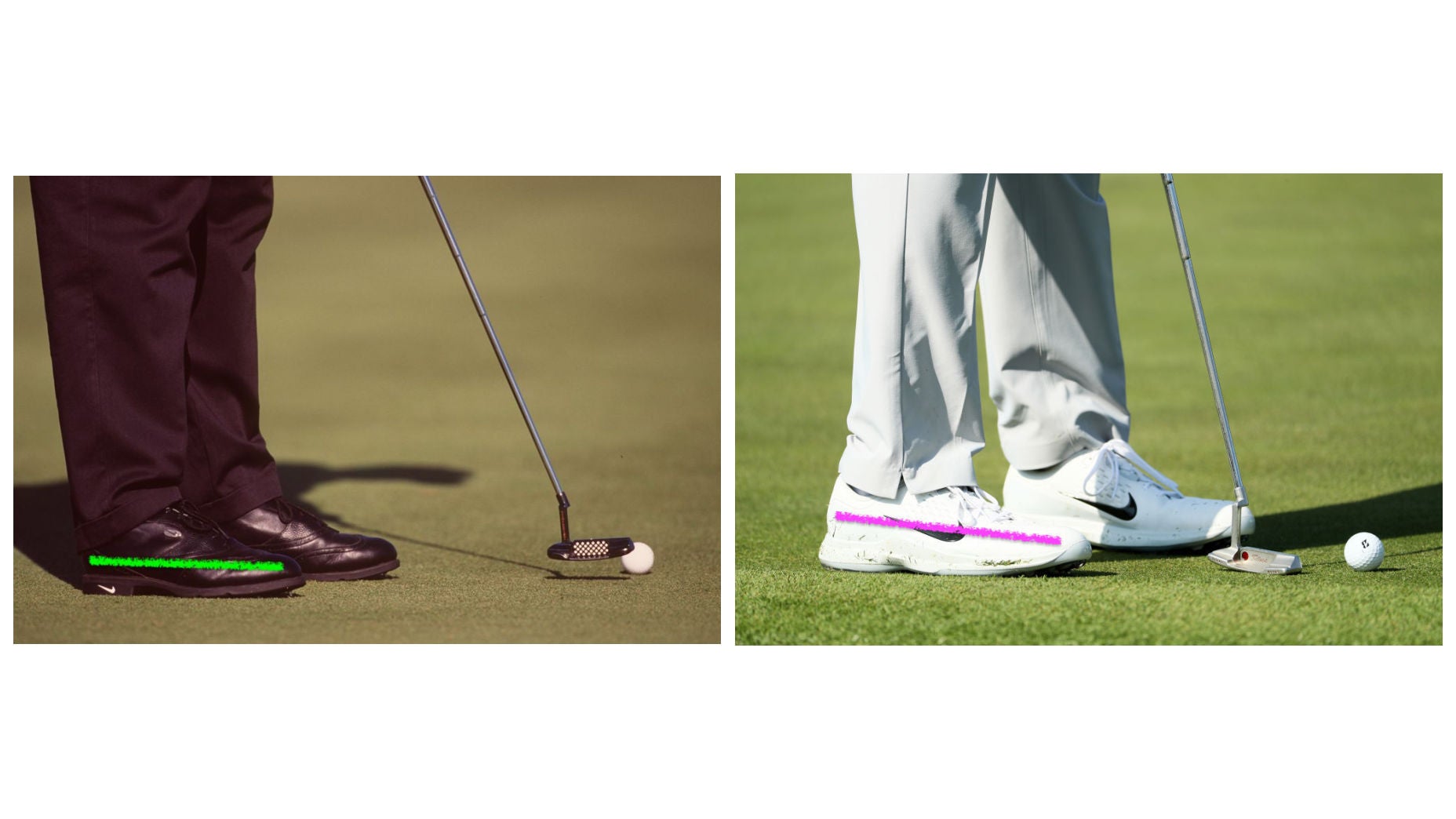 When golfers start with too much weight on their toes, they can often struggle to make a full hip turn deep into their right hip on the backswing, and corresponding rotation through into their left hip on the way through.
Like everything, different shoe designs are better or worse for different people. But the theory goes that golfers who struggle with lower body mobility could potentially benefit from reducing the "drop" of their shoe, which effectively means your foot is flatter on the ground. A bit like you're swinging barefoot.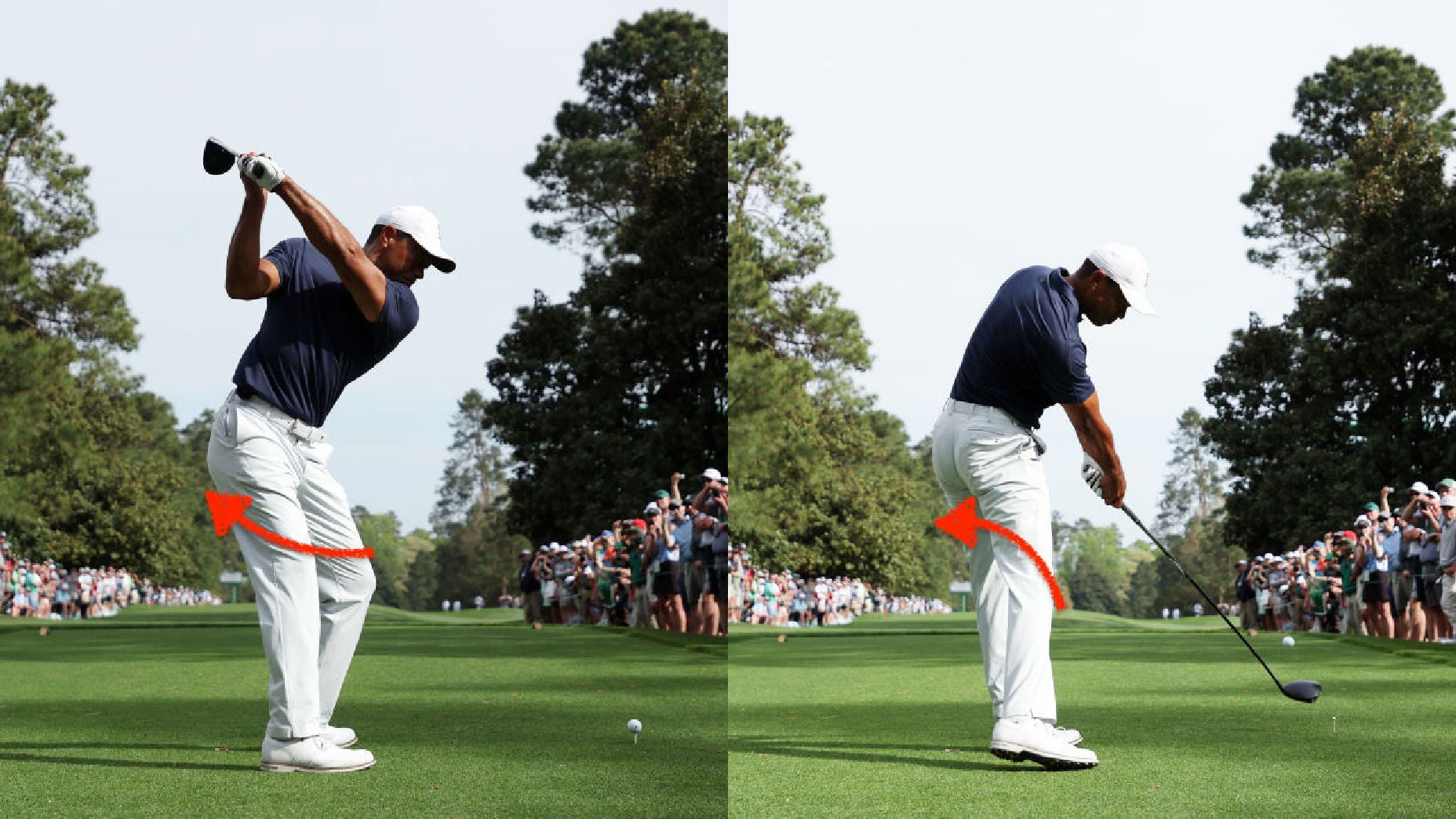 The design of your shoes can effect the way you move too: Studies have shown that people will respond to the extra padding under their heel by actually landing more on their heel as they walk and run — and there's some evidence to suggest this can increase stiffness in your legs.
Of course, there could be something else going on here with Tiger specifically, so I'm not trying to draw any sweeping conclusions on that front. Merely underlining that golf shoes have a subtle, but real, effect on your golf swing. So pay attention to them, and find the best ones for you.