Los Angeles Chargers quarterback Justin Herbert has some goals he'd like to accomplish as the newest member of Callaway's brand ambassador staff. At the top of the list is helping golfers (particularly juniors) who might not have access to a course or clubs — but still have an interest in the sport.
Golden State Warrior guard Stephen Curry — also a Callaway brand ambassador — is doing something similar in the golf space with the Underrated Tour, and Herbert, who already supports Oregon-based KidSports, is hoping to do the same with the larger microphone his Callaway relationship provides.
"We share a lot of common goals," Herbert said on GOLF's Fully Equipped podcast. "So being able to work with them was really genuine and authentic. It's been great so far.
"… It's all about making golf accessible for everyone. I was fortunate enough to be able to play golf growing up, but not everyone is. I think that's something we can continue to work on. Broaden who golf is for. I think there's a lot of values and lessons you can learn [from golf] that you might not learn from everywhere else."
Along with the larger microphone, there's another perk Herbert's Callaway deal provides — and it was on full display during his first trip to the Ely Callaway Performance Center. As Herbert recalled, he's gone through several custom club fittings at the performance center, but it was the first visit that left him feeling like a kid of Christmas.
Yes, being a Callaway brand ambassador comes with some incredible perks, but as Herbert admitted, the mass of free clubs at his disposal made him worry if he'd be able to put all of them to good use.
"I kind of felt bad because of all the stuff they were giving me," Herbert said. "I wanted to make sure I put it to good use, and that I wasn't wasting it out on the golf course. The types of clubs and all the technology they have, to be able to fit you for what you need as a golfer, I was amazed. I'm still continuing to learn about all the things that affect your swing or club. Just being around those guys at the facility, you learn so much more about your game."
Thankfully, Herbert has been able to break in his Callaway clubs and noted he's shaved five shots off his score with the help of custom-fit gear. Free clubs are nice, but it's even better when they help you go low on the course.
 Check out the full interview above with Justin Herbert on this week's episode of Fully Equipped. Want to overhaul your bag for 2023? Find a fitting location near you at True Spec Golf. 
All of our market picks are independently selected and curated by the editorial team. If you buy a linked product, GOLF.COM may earn a fee. Pricing may vary.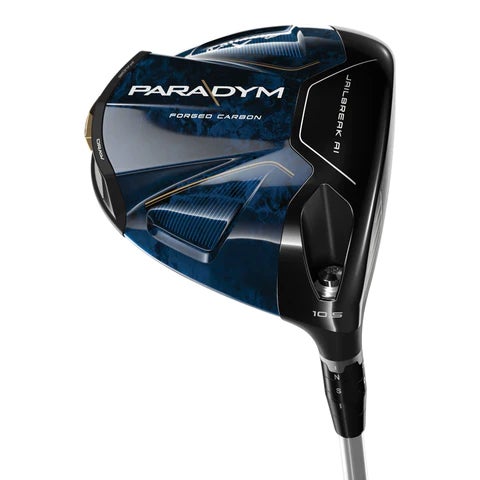 Callaway Paradym Triple Diamond Custom Driver
$599.99
The Paradym Triple Diamond model is compact, 450cc shape designed for better players who want to work the ball. It's the lowest spinning and lowest launching Paradym model with a neutral ball flight.
buy now