How a clever gear hack solved this Tour winner's sweaty-hands dilemma
CHARLOTTE, N.C. — Look around the practice green at a PGA Tour event and you'll quickly notice a myriad of different putter setups. Long-than-normal grips, prototype putter heads and multi-material shafts are just a few of the items that stick out. Every pro is searching for a setup that instills confidence on the greens, and many are willing to go to great lengths to achieve the ideal putter build.
But what happens when something feels off? With a myriad of options, it's easy to shelve something that doesn't seem to be working and test several different options. About six years ago, five-time PGA Tour winner J.B. Holmes started to notice the grip on his putter would get slick whenever he rolled putts, especially on humid days when the temperature started to climb.
"The grip felt like it was slipping in my hands," Holmes said of his SuperStroke Pistol GT 1.0. "I liked the grip I was using, but the material would get slick because my hands sweat a lot."
All of our market picks are independently selected and curated by the editorial team. If you buy a linked product, GOLF.COM may earn a fee. Pricing may vary.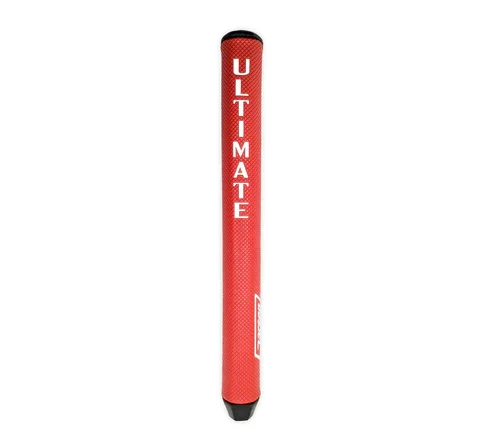 Putter Grips
Check out Fairway Jockey for your club grip needs.
BUY NOW
Some grip manufacturers have found ways to combat moisture on the rubber surface. Golf Pride, for example, employs a tight-weave cotton twill fiber in its cord options to soak up excess sweat and dampness. SuperStroke also has an S-Tech Cord club grip, but its putter grips feature a different material and texturing.
While Holmes liked the overall feel of the Pistol GT 1.0, he needed a solution to deal with his sweaty hands. Enter a common sporting goods store item: athletic tape. Instead of seeking out a different grip, Holmes applied a single layer of tape to the entire surface of the grip and noticed an improvement in overall feel.
"I don't change it out all that often," Holmes said. "I've actually found the overall feel of the tape improves the more I use the grip. And I haven't had any issues when it's humid outside. It's one of those solutions that just worked."
Holmes won the 2019 Genesis Open with tape on his putter grip and hasn't seen the need to mess with the setup, even as he's changed putters over the years. Holmes, who withdrew from the Wells Fargo Championship with a back injury, has been using a Bettinardi BB56 mallet with athletic tape on the SuperStroke grip for the past few years.
For golfers who like the overall profile of their grip but struggle with sweaty palms, following Holmes' lead and adding athletic tape to the handle is a cost-effective solution worth considering.
Want to overhaul your bag for 2023? Find a fitting location near you at True Spec Golf.