If you're an astute Golf.com reader, you probably already know by now that the GCQuad launch monitor from Foresight Sports is an integral component for our equipment writers and a myriad of top golf instructors who use the launch monitor regularly. We utilize launch monitors for both club testing, robotic testing and instruction/swing lesson validation, sometimes employing both functions simultaneously.
And it's not just us.
In a mere two-year span, San Diego-based Foresight Sports has become a force to reckon with on the professional tours, boasting the most utilized launch monitor for 56 out of the last 59 weeks on the PGA Tour, Korn Ferry Tour and LIV Golf combined. This includes a 33 percent increase in GCQuad usage in the past year alone. Furthermore, several top equipment brands and governing bodies, including the USGA and R&A, use the company's launch monitors and software platforms for their own series of tests and analysis.
To understand the reason behind Foresight's meteoric rise, we reached out to the company's top PGA Tour, LPGA Tour, and Korn Ferry Tour representative, Mark Gerent, for insights on why he believes Foresight has become a game-changer in the launch monitor business. Gerent spends a whopping 40 weeks per year on the road, working, interacting, and communicating all things Foresight with many of the world's best players. If someone knows why Foresight Sports is thriving — it's him.
"Launch monitor technology revolutionized equipment testing and golf instruction a decade ago," said Gerent. "We learned things we could never see with our own eyes, and it revolutionized both instruction and club-fitting in several ways. Because of it, we better understand how clubs interact at impact, how the swing path and clubface angles function, and perhaps most importantly, launch monitors have made it easier and faster for more golfers to get properly fit for the right gear."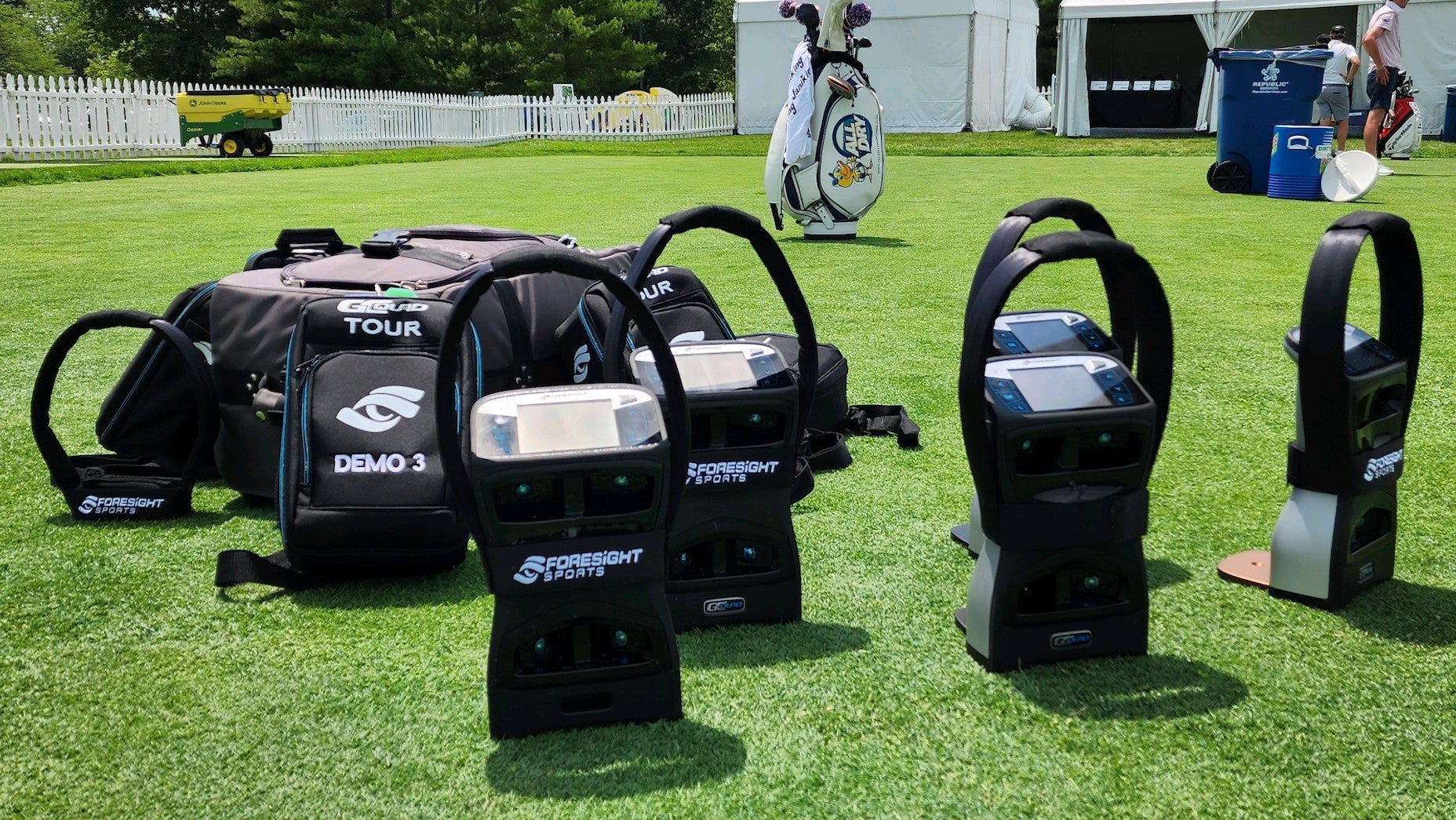 When asked what's different now and why Foresight Sports is charging ahead, Gerent continued, "What wasn't so great back then was how launch monitors worked. They were cumbersome, big, and not always easy to calibrate," he said. "Foresight Sports changed all that with its portable launch monitor technology, making it easier than ever to set up, calibrate and collect data. Coincidentally, as our products get smaller, our footprint gets bigger with more players, teachers and clubmakers using our products not only on the range, but virtually anywhere on the golf course." According to Gerent, "I regularly see players use the GCQuad from the fairway, rough or even the first cut of rough. Because it's so portable and quick to set up, I've seen players drop a few balls on the tee to work on various shots on different par-3s. This helps them dial in their spin and distance no matter where the pin is."
And it's not just portability that's driving growth here. The way Foresight handles its data is a significant reason the products have gained popularity in the professional ranks. "At Foresight Sports, we're fully committed to ensuring the utmost accuracy and precision when it comes to shot data," Gerent continued. "We don't just collect data — we capture it.
"Whereas some launch monitors make educated guesses as to where a ball strikes a clubface, our launch monitors have the ability to capture precise impact locations. This is a huge deal because it means the teacher, golfer or equipment manufacturer can rightfully see and discern how the ball reacts off different points on the face. There's no guesswork here."
Spin measurement is another reason GCQuad is so popular. "Our launch monitors can measure spin as the ball is actually spinning — not from guesstimates derived from other swing and impact parameters," said Gerent. "We capture exactly how much the ball spins and what direction it's traveling, helping us garner extremely accurate shot data."
The GCQuad, the company's flagship product, comes equipped with four high-speed photometric cameras housed inside that capture accuracy at thousands of frames per second. Tiny sensors regulate the flash feature on each camera, controlling the amount of light allowed into the lens for each image. The slower a golfer swings, the more light each camera must produce for the machine's onboard computer to collect information. Four markers can also be added to the clubface to measure movement, tilt, rotation, and several other important swing attributes as the club moves through impact.
Swing data is then parsed by a series of high-powered processors, translating the captured images into numbers the computer analyzes in a matter of milliseconds, which are then displayed on the screen. The unit's ease of use also makes it possible to take it on the course, set it down, and gather real-time data within seconds.
"Whether it is on course or for range use, setup is a breeze," said Gerent. "Simply hitting the power button activates the GCQuad and within 5 minutes the quad is adjusted to the temperature and all the elements. The long-life lithium battery will last 8-10 hours on a charge making a full day of practice stress-free. Also, the device will not overheat in high temperatures. This makes it versatile and usable anywhere the players have a tournament."
What also makes GCQuad unique is its ability to remove wind conditions from the equation and offer a pure carry number, thanks to a highly technical algorithm that eliminates wind from the equation. "We can't control how wind will influence a golf ball down range, but our software systems can accurately remove it from the equation to give you clean data. We're also able to adjust to different altitudes as well, thanks to an internal barometer," said Gerent.
However, when all is said and done, Gerent concludes by saying that as great as the technology is in Foresight's products, it's the mission behind the team of 200+ employees and the company's commitment to launch monitor and simulator technology that propels the company forward. "We strive to create the most accurate launch monitors, simulators, and software platforms in the game. Whether it's working to eliminate external variables such as air density, elevation changes, and wind to deliver more actionable data, measuring spin and contact points or even investing in the latest in quadrascopic photosystems, our goal remains the same. We want to deliver accurate data and do it in a way that's as portable and simple to use as possible. And lastly, I've been out on two for 22-plus years now. I've never seen tech like this catch on so quickly."
Foresight Sports has already sold 50,000 devices, and every one of its GCQuad, GC3, and GCHawk launch monitors is assembled and tested right in the company's San Diego test facility.
To learn more about the full selection of Foresight Sports products, visit foresightsports.com.