ClubTest 2022: 2 new Wilson fairway woods tested and reviewed
courtesy wilson
This year's ClubTest is bigger and better than ever. To help you make sense of the mountain of high-tech new clubs on the market, we put all of the latest offerings from the top golf club manufacturers to the ultimate test. Below you will find the test results and complete reviews of Wilson's two new fairway woods.
You can find the full list of ClubTest fairway wood reviews here.
Want to overhaul your bag for 2022? Find a fitting location near you at GOLF's affiliate company True Spec Golf.
WILSON FAIRWAY WOODS REVIEW
Wilson D9
We tested: 13.5, 15 and 18 degrees
Our take: Don't be fooled by the clean look from address on these Wilson D9 fairway woods. They pack a punch, and helped our testers hit balls from the turf that went long, high and straight. Consider these a sleeper selection that keeps up with top performers in the category.
All of our market picks are independently selected and curated by the editorial team. If you buy a linked product, GOLF.COM may earn a fee. Pricing may vary.
Wilson D9 fairway wood
$219.99
Variable Face Technology virtually guarantees high ball speeds and high launch angles, even on off-center hits. Milled from premium Carpenter Custom 455 steel, the face is thin, hot and optimized to deliver more feel and more distance performance.
Buy Now
The details: With the help of its Advisory Staff members, Wilson crafted tour-like head shapes that optimize weight for ball speed. They also have thin milled faces made from Carpenter Custom 455 steel that have variable thickness across the face to boost speed and launch on off-center strikes.
Wilson Launch Pad
We tested: 15 and 18 degrees
Our take: Is there anything more frustrating than hitting a low slice with a fairway wood that doesn't get above head height? The Wilson Launch Pad fairways repeatedly helped our low-speed testers achieve a high-launching draw, even on shots hit off the deck.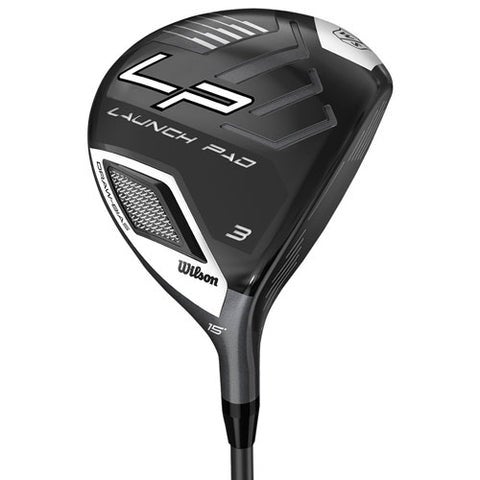 Wilson Launch Pad fairway wood
$199.99
The Launch Pad fairway woods are designed with a moderate hosel offset. This promotes a closed face at impact and neutralizes any fade bias for more control and straighter shots.
Buy Now
The details: Wilson's slice-busting fairway wood is built with moderate offset, 13 grams in the heel section of the head, and an upright lie angle to make release the club face significantly easier. Also, the faces are made from Carpenter Custom 455 steel faces to boost ball speed, and the lightweight heads are made to create more swing speed.