FIRST LOOK: Callaway Rogue ST drivers, fairway woods and hybrids
Jonathan Wall
With its new line of Rogue ST drivers, Callaway has once again pushed the limits of speed and forgiveness by using a design process that combines Artificial Intelligence (A.I.), real player data, Tour feedback and human brainpower.
While A.I. sounds new-age, the Rogue ST isn't Callaway's first foray into the use of A.I. The company has been using a system of computer development for years – its previous Mavrik and Epic Speed families, for example, were created with A.I. assistance.
Its 2022 Rogue ST drivers, however, are even smarter and more advanced. The company is now using A.I. in different ways to improve parameters such as speed, forgiveness, launch and spin, and optimizing them for different players.
The goal for Callaway was to develop a line of drivers that produces more distance and stability for a variety of golfers, which meant developing each head and face individually. The Rogue ST family features four separate driver models: Max, Max D (draw-biased), Max LS (a lower, more penetrating ball flight), and Triple Diamond LS (a more compact, lower-spinning head with a fade bias).
Before we dive a bit deeper into the differences between the Rogue ST heads, let's dive into the commonalities.
First off, the "ST" stands for Speed Tuned. That shows Callaway was focused on cranking up the speed in these Rogue ST heads. So, yes, the faces are made faster. Really, though, the back-weighted Tungsten structure is arguably the most innovative and influential technology used in the driver heads.
With the goal of creating extreme perimeter weighting, Callaway developed a "Tungsten Speed Cartridge" in the very rearward section of the head.
Here's how the Tungsten Speed Cartridge works: A dense Tungsten weight, which weighs in at 20-26 grams, sits in a urethane structure to help drive the center of gravity (CG) back. The weights are different depending on the individual head models, helping to put weight where it's most optimal in each head. Overall, the heavy Tungsten weight and complicated structure work to move weight away from the face and reduce twisting at impact. For golfers, that means you don't lose as much speed on off-center shots.
For additional speed and stability, Callaway has also updated its popular Jailbreak technology — a structure that sits behind the face and connects the sole to the crown. The vertical bars on the Jailbreak Speedframe in the Rogue ST are more slender, but the horizontal portions are stiffer, especially lower on the face. This helped Callaway reduce overall weight from the frame, but still retain the benefits of Jailbreak at impact.
The Rogue ST also features a brand-new Flash Face SS22 face design.
With the Rogue ST, Callaway relied on A.I. to help construct different faces for each of its four driver models, optimizing each for speed, launch and spin. Using data input from real players, Callaway's A.I. helped develop faces that have varying levels of thickness to maximize performance where (and when) it's needed.
More specifically, Callaway directed the A.I. to reduce spin in each face by 100 rpm, meaning golfers can expect a slightly more penetrating ball flight that doesn't balloon in the air and lose distance.
The smart A.I. faces, matte carbon composite crowns and carbon sole plates are bonded to what Callaway calls a Unibody Construction, which is made of titanium. The unibody doesn't have uniform stiffness throughout, though. Certain sections of the body structure have been made stiffer to maximize stability at impact.
Overall, each head has been designed to drive weight lower and more rearward. That's why the back portion of the sole sits lower to the ground than in previous Epic Speed drivers, which used Callaway's higher-sitting "Cyclone" shape and had a more forward CG. The reason for the new Rogue ST shape, according to Callaway, is to create more forgiveness and "speed robustness" for the player.
As previously mentioned, there are four different Rogue ST models, which are each selling for $549.99 and become available at retail on February 18, 2022. They come with the option of Project X Cypher, Mitsubishi Tensei AV Blue and Mitsubishi Tensei White stock shafts.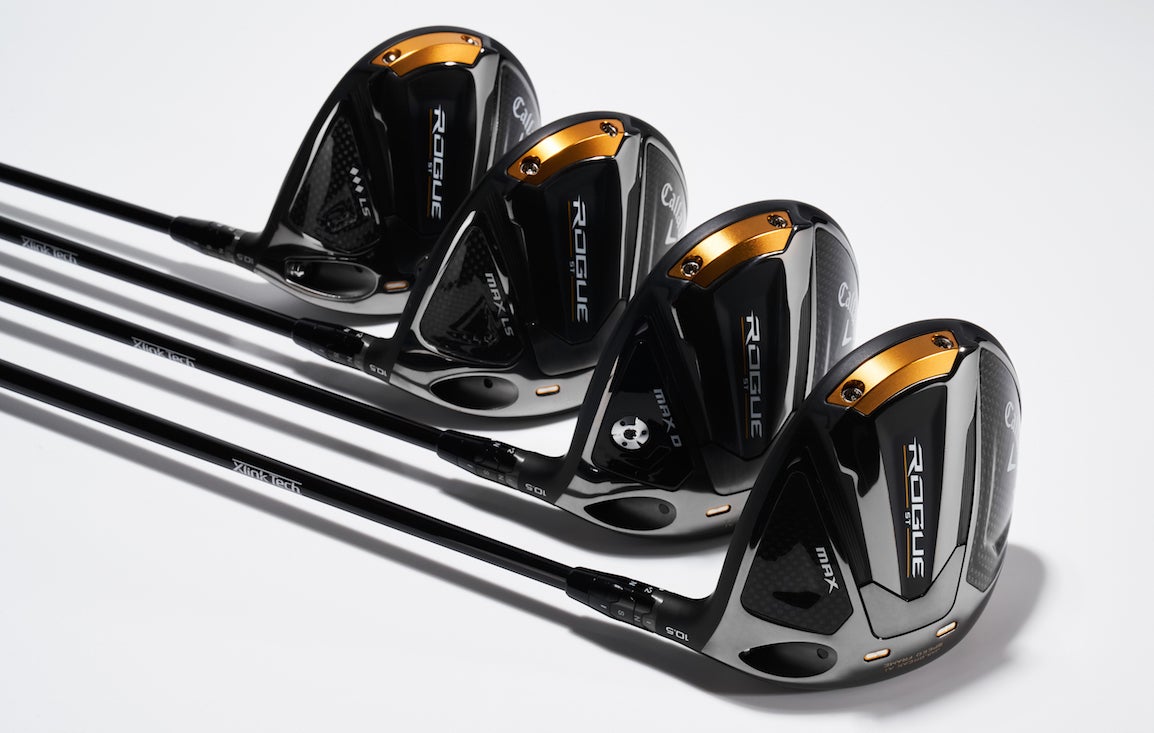 Here's a brief breakdown of each driver model:
Rogue ST Max (8-11, 9.5-12.5 and 11-14 degrees): The Max is the most forgiving head in the lineup, and has a slight draw bias built-in. It comes with a 26-gram tungsten head weight in the back and is designed to fit the swing of most golfers.
Rogue ST Max LS (8-11 and 9.5-12.5 degrees): Compared to the Max driver, the Max LS will have lower spin, more workability, and a more neutral trajectory bias. It comes with a 23-gram Tungsten weight that helps move CG slightly forward compared to the standard Max head.
Rogue ST Max D (8-11, 9.5-12.5 and 11-14 degrees): The Max D is a forgiving head that has a built-in draw bias and upright lie angle. There's internal and external draw weighting (with a 20-gram Tungsten weight), and it has an elongated head shape for more forgiveness.
Rogue ST Max Triple Diamond LS (8-11 and 9.5-12.5 degrees): Callaway's Triple Diamond head shapes were formerly a tour-only or limited release option, but they're now part of the initial retail launch. The Triple Diamond LS is the lowest spinning Rogue ST model, has a 450cc compact head shape, comes with a neutral-to-fade bias and a 20-gram Tungsten weight in the sole.
Rogue ST fairway woods
Like the drivers, the Rogue ST fairway woods also use Jailbreak technology, except the tech looks quite different.
The Rogue ST fairway woods use what Callaway calls Batwing technology, which has Jailbreak structures that sit behind the edges of the heel and toe sections. This allowed Callaway to keep the faces flexible for speed, but also established greater stability due to the separated structures.
Also, like the drivers, the Rogue ST fairways use a Tungsten Speed Cartridge in the sole, except it is not in the rearward portion of the head. In the fairways, the Tungsten weights are placed closer to the face to reduce spin and increase ball speed. The weighting helps establish low and forward CG, helping especially with shots hit low on the face (in fairway woods, low on the face is where most of the misses occur).
Callaway's Rogue ST fairways also use A.I. optimization on their C300 face cups to enhance speed, launch and spin on each head model.
Each of the Rogue ST models will be available for $349.99 starting February 18. Here's a brief breakdown of what each model does and how they differ:
Rogue ST Max (15, 16.5, 18, 20, 21, 24 and 27 degrees): This is a high-launching model built with forgiveness and a neutral ball flight to fit the widest range of players.
Rogue ST Max D (16, 19 and 22 degrees): This is the highest launching option, and most draw-biased for golfers who need help reducing a slice.
Rogue ST LS (13.5, 15, 16.5 and 18 degrees): This is the lowest launching and spinning head, and it produces a neutral flight trajectory.
Rogue ST hybrids
As with the Rogue ST fairway woods, the hybrids use Jailbreak technology in the toe and heel sections to enhance both speed and forgiveness. There's also Tungsten weighting in the toe section to help move weight lower in the heads.
The A.I.-designed 455 face cups have also been reduced by 130 rpm per head on average and launch angle has increased by 1.5 degrees. For golfers, that means they're slightly higher launching and lower spinning to increase distance.
Like the drivers and fairway woods, there are multiple Rogue ST hybrid models: a Max, a Max OS, Max OS Lite, and a Pro.
The Max will produce the longest distances, and it's made for the most all-around performance suiting a wide range of golfers. The Max OS has a larger shape, wide sole, and is made for higher launch conditions. The Max OS Lite is made for mostly seniors and women, while the Pro version has a shallow shape, enhanced camber and neutral CG for iron-like workability that better players desire.
Each of the hybrid heads will sell for $279.99 starting on February 18, 2022.
Want to overhaul your bag for 2021? Find a fitting location near you at GOLF's affiliate company True Spec Golf. For more on the latest gear news and information, check out our latest Fully Equipped podcast below!