3 essential gear lessons you can learn from this Tour pro's surprising set makeup
Ryan Barath
There's something aspirational about looking into the bag of a professional golfer. Pro golf bags are often filled with blade irons, a "tour"-style driver and low lofted fairway woods — the sort of gear most amateurs can only hope to play. But PGA Tour player Zac Blair is not most pro golfers. For Blair, finding the right fit means thinking a little outside of the box.
Lesson 1: Know your strengths
Even as a pro whose dispersion is significantly smaller than the average player, Blair uses blades only up to his 5-iron. Beyond the longest blade iron in his bag, Blair uses utility irons to form a combo set designed to balance scoring potential and playability.
As one of the shorter players on tour, Blair's focus isn't on reaching par-5s in two, but rather on finding comfortable yardages with shorter clubs and knowing his wedge distances.
Lesson 2: Loft is your friend
I will repeat this as often as needed until golfers stop making the same mistake: ditch the 3-wood!
After his driver, the next club in Blair's bag isn't a 3-wood, it's a 5-wood. As for the reason behind this particular club setup, he was blunt: "I need spin to keep the ball in the air and the extra loft helps with that."
If you're using your 3-wood off the deck more than off the tee and struggle to get height and distance, it might be time to ditch that club for good and go with a 4- or 5-wood as the next longest club after your driver.
Lesson 3: Ditch the ego
Ego — whether it's on the course or deciding on set makeup — can ruin scores. Don't use what you "think you should," rather use what you "know you should."
In Blair's case, the two clubs that stand out are on opposite sides of his set: the driver and the putter.
Blair plays a TSi1 driver, which by all accounts shouldn't fit him since it is designed for moderate-speed players looking for distance. But with the TSi1's combination of a lighter head and deep center of gravity, it gets him the most off the tee.
Next up is the putter, an Evnroll ER1TS. At first glance, the ER1TS might look like a normal putter, but at the address position, it's anything but. This style of offset creates close-to-toe balance in a blade-shaped head and frames the ball to position the hands in the same spot every time, aiding consistency in alignment.
Many golfers might look at this style and say "not for me," but when you assess what Blair does on the greens and the results speak for themselves.
All of our market picks are independently selected and curated by the editorial team. If you buy a linked product, GOLF.COM may earn a fee. Pricing may vary.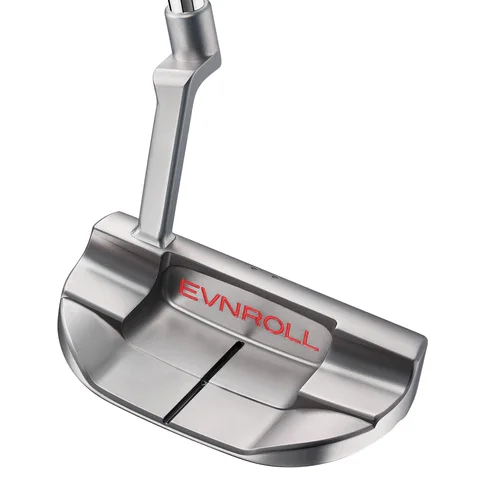 EVNROLL ER8V PUTTER
$419+
A square-backed mid-size players mallet.
BUY NOW
Want to overhaul your bag for 2022? Find a fitting location near you at GOLF's affiliate company True Spec Golf. For more on the latest gear news and information, check out our latest Fully Equipped podcast below.