Nothing represents success in golf quite like the Masters champion's green jacket. Images of the select few players who have slipped on that jacket are etched in our memories. The jacket really has no equivalent. You might even call it priceless.

A federal lawsuit filed in the U.S. District Court for the Southern District of Georgia on Monday goes a step further to argue that the jacket is, in fact, priceless.

According to Augusta National Inc. (ANI)—a Georgia corporation that owns and operates the August National Golf Club and the Masters Tournament—the green jacket can't be sold by anyone other than ANI. To that end, ANI charges that a Florida-based sports memorabilia company called Green Jacket Auctions is breaking the law by holding onto one particular green jacket, along with other Augusta National items.

The parties will have a hearing before Chief Judge Randal Hall on Aug. 17. Unless Judge Hall grants a temporary restraining order, these items will be auctioned off on Aug. 19.

Important difference between owning and possessing a green jacket

ANI's lawsuit centers on the unique culture and distinctive items associated with the Masters Tournament, arguably golf's most prestigious event. ANI insists that Green Jacket Auctions came into possession of several items that were stolen from the club. Those items include a green jacket of Byron Nelson's from 1966; the green jacket used by Augusta member John R. Butler, Jr.; the green jacket used by former Augusta member George King; and various silverware items that may have been unlawfully taken from the club or that comprise counterfeit goods.
[image:13910670]
According to ANI, the Masters champion can wear the green jacket but only under strict conditions that advance the green jacket's lore. The champion can remove the green jacket from the club during the one year that follows winning the Masters. But he is then legally obligated to return it. Also, after that year expires, the champion can't ever again remove the jacket from the club. He can only secure another jacket by winning the Masters again.

ANI stresses that it owns each Masters champion jacket at all times and that the winner's rights in such a jacket are possessory. Think of the Masters champion as an entrusted party. In some ways it is like NHL players on a team that wins the Stanley Cup. Over the following summer, the players are typically allowed to take the Stanley Cup on the road for a brief trip. But at no point does any one player "own" the trophy.

ANI highlights the extent to which it enforces its ownership claim over the jacket. In the complaint, ANI retells Gary Player's experience after winning the 1961 Masters. Player brought the tournament jacket home to South Africa and then failed to return it. ANI told Player that while he could "store" the jacket in South Africa, he could never again wear it in public.

As mentioned, ANI also contends that Green Jacket Auctions has unlawfully obtained club member jackets. These member jackets, the complaint insists, can "never" be removed from Augusta National, for any reason. Even worn and torn jackets must remain at the club. Damaged jackets are replaced with new ones, but damaged ones can't exit the property.

That is the tradition. Those are the rules.

ANI demands that the court enjoin Green Jacket Auctions from selling these "stolen" items and order their return. ANI stresses that under Georgia law, the "true owner of personal property" must return stolen property—even if the defendant had no knowledge the property had been stolen.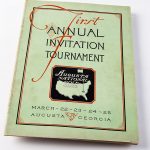 False advertising and trademark claims
ANI also insists that Green Jacket Auctions has damaged the club's brand through misleading statements contained in the defendant's advertisements.
Along those lines, Green Jacket Auctions offers a very different account of Augusta National's celebrated history of the green jacket. According to Green Jacket Auctions' website, "the actual truth" of Augusta's policy that green jackets "are not allowed to leave the hallowed grounds of Augusta National Golf Club" is much less storied than the club lets on. Indeed, the auction house asserts on its website that "most early green jackets were discarded or destroyed in an era when they were merely seen as a symbolic garment, not a significant piece of golf history." Green Jacket Auctions also claims that it has reviewed ANI's "internal records" and found that the club no longer owns any green jackets that were produced before 1967.
In response, ANI contends Green Jacket Auctions statements are "false" and "intended to falsely and improperly bolster Defendant's reputation by implying that it has an ability to review private, internal records of ANI and to obtain items which ANI cannot."
ANI further charges that Green Jacket Auctions is selling a counterfeit "Augusta National Golf Club Sterling Silver and 14k Gold Belt Buckle." ANI stresses that the item creates an impression of a false association between ANI and a fake belt. This impression dilutes the value of ANI's trademarks, which are designed to distinguish ANI's actual goods from impostors and counterfeits.
The battle ahead over ownership

So where will the lawsuit lead?
The law normally compels persons in possession of stolen goods to return them to their rightful owner. However, when a good has been out of possession for a long time and its true owner failed to make reasonable efforts to find it, the good might not be ordered returned.
Whether these points prove relevant here remains to be seen. But consider Nelson's jacket from 1966. According to ANI, the jacket was stored at ANI as of 2009. ANI insists that it retains title in the jacket and Green Jacket Auctions must therefore return it.
To rebut that point, Green Jacket Auctions might contend that ANI may have had a duty to check its physical inventory more often. Had it performed another inspection not long after 2009, perhaps Nelson's jacket would have been retrieved from whomever took it and Green Jacket Auctions would have never purchased it (assuming Green Jacket Auctions bought the jacket). Along those lines, Green Jacket Auctions could assert that an item being out of ANI's possession for eight years diminishes ANI's interest in the item.
Green Jacket Auctions might also inquire as to whether ANI notified the police about missing items. If the answer is no, Green Jacket Auctions will demand to know why. The auction house might also claim that ANI is simply trying to scare off potential buyers with the auction approaching. Those buyers might now believe there is clouded ownership over the items and thus offer less in an auction bid.
It's unclear how Green Jacket Auctions came about the items set for auction. If purchased from a reputable dealer, Green Jacket Auctions would have a stronger argument that it acted in good faith. But buying stolen goods in "good faith" doesn't ensure that the goods won't be ordered returned to their true owner.
Green Jacket Auctions' business model appears designed to take on ANI's traditions and make coveted golf items available to consumers. It will be interesting to see how Judge Hall connects that business model with the law.
Michael McCann is Sports Illustrated and GOLF's legal analyst and the associate dean for academic affairs at the University of New Hampshire School of Law.