AUGUSTA, Ga. — There are 18 greens on the big course here and none of them is an easy two-putt. The Par-3 Course has 11 greens, although only nine are used for the annual Wednesday afternoon mid-April shoot-out. If you drive into the club via Magnolia Lane, there are three practice greens on the right side of the road and one to the left. Then, on the other side of the clubhouse, there's the giant putting green almost beside the 1st tee. There are also three putt-and-giggle greens for the benefit of guests at the glorified food mall called Berckmans Place. So that makes 37. Thirty-seven greens that you hear about, some more often than others.
And then there is the club's Green 38.
Green 38 is, to a certain and tiny population of golf buffs, what Area 51, in the Nevada desert, is to a certain and tiny population of UFO buffs. It is a nearly mythic green that can plainly be seen in aerial photographs of the Augusta National Golf Club property.
But have you ever heard of anybody who has putted Green 38 and lived to tell about it? Likely not.
Have you ever heard anybody even make a reference to it? Unlikely.
Maybe your little friends have told you that Green 38 does not exist.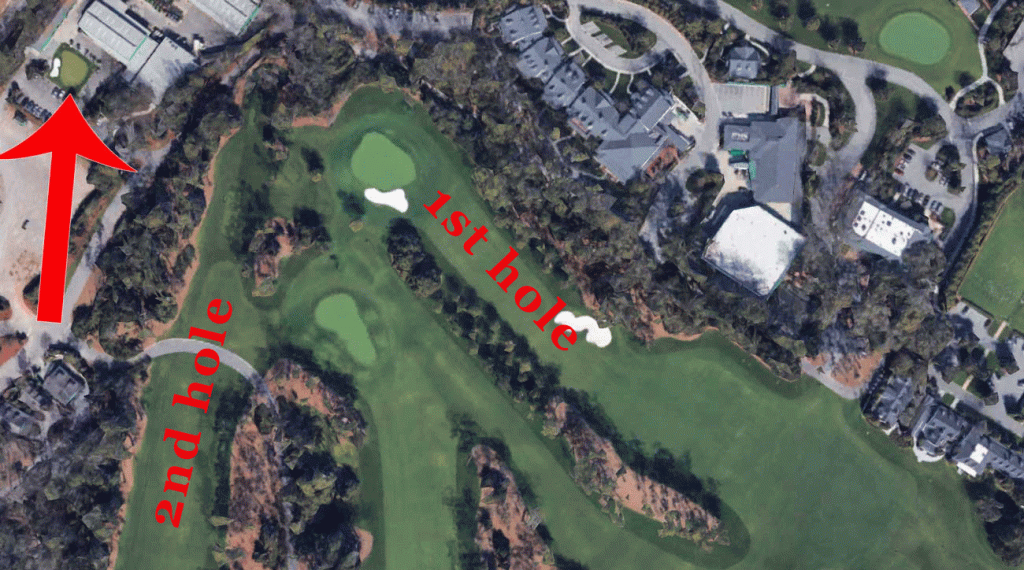 ---
Well, your little friends are wrong. As a great newspaperman of yesteryear wrote, "They have been affected by the skepticism of a skeptical age."
No player in the tournament will ever give even a passing thought to Green 38, even as they come within 120 or so yards of it, as they walk off the 2nd tee and toward its fairway. No spectator (fan, patron, onlooker, etc.) will pay it any attention. But it is there, baking in the midday sun, in all her glory: No. 38.
Who designed this small, round and seemingly unremarkable green? We can't say (and here we borrow from Jack Stephens, a former drawling, charming chairman of this club) on account of . . . we don't know. Does it still have that snow-white figure-8 bunker beside it, the one you can see so clearly on some aerial photographs? It does not.
Is it good?
Is Green 38 good?!
No, it's not good.
It's way north of that.
It's outstanding.
Green 38 brings to mind No. 16 on the big course, the par-3 green where Tiger Woods pitched in so famously on Sunday in the 2005 Masters. Green 38 is maybe half the size of 16, but in terms of pitch, it takes a backseat to no green we know, not Redbud (No. 16 at Augusta National), not the 2nd at Pine Valley, not the 1st at Oakmont. As for its speed, it's ridiculously fast, at least 12.5 on a Stimpmeter, though it would be hard to find a level putt to use Edward S. Stimpson's simple and useful invention for capturing green speeds.
There were four holes cut on Green 38, at last report, along with maybe two dozen or so balls laying on it, representing all the major manufacturers and some downright obscure ones. There were no mini-flagsticks in the holes, which were stuffed with balls holed by lunchtime and coffee-break putters. Green 38 is surrounded by course-maintenance buildings and parking spaces. The green may or may not be used by the course superintendents and club officials for various grass-growing experiments, but it is certainly used for recreational reasons. An unremarkable two-way putter, in the Spalding Cash-in tradition, is kept on the green, which is duller in color than the greens found on the big course.
But anybody who has putted in it will tell you the same thing: Anytime you're above the hole, you better lag, even from three feet. If it falls in, that's a plus.
A suggestion here is to enjoy the view of Green 38 from Google Earth or in some similar manner. Do not attempt to see the green for yourself, as it will require you to traipse through the so-called first cut on the right side of the 2nd hole, through a grove of trees, over a work road, past a security person and finally a parking lot. In other words, it's off-limits.
Anyway, it's not exactly Nelson Bridge or Butler Cabin or the Palmer Plaque. Nothing historic has ever happened on Green 38.
As best we know!
Michael Bamberger can be reached at Michael_Bamberger@Golf.com