It certainly wasn't the way Jordan Spieth wanted to start his postseason.
Playing in his first tournament as the No. 1 golfer in the world, Spieth shot a four-over 74 to open the Barclays on Thursday at Plainfield Country Club in Edison, N.J.
Spieth's 74 is his worst competitive round since he shot a 75 in the opening round of the Players Championship on May 10. That was also the last time he missed a cut. Even though Rory McIlroy isn't playing this week, Spieth could be in danger of giving back the No. 1 spot to McIlroy.
"I'm not a big fan of the course," said Spieth, who is tied for 103rd as of this writing. "It doesn't fit me very well particularly, but I have also won on courses I didn't think fit me very well, so I know I can still shoot a low round if I hit the shots I need to hit, that I'm trying to hit. Just hopefully see a few more putts go in."
RELATED: View the Full Barclays Leaderboard
The 22-year-old Texan, who started on the back nine, birdied the first hole of the day and was two under at the turn, but he ran into trouble on his second nine. He played the first three holes in four over, and a birdie on the fourth was quickly erased with a bogey on the fifth. He recorded his first par of the side on the sixth, but bogeys on seven and nine resulted in a 40.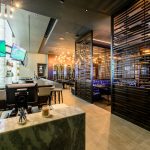 Spieth hit 11 of 14 fairways—but only 11 greens in regulation and had 31 putts—and said rust with his wedges and poor decision making turned it into a "unique round for the year."
"I am playing good," he said. "I hit my first 11 fairways today, and that's really hard to do out here. Typically when I hit the fairway I'm not over par, and that's what was weird about the round."
Both of Spieth's playing partners fared better than he did. Bubba Watson set the pace early with a five-under 65, and PGA champion Jason Day finished two under.
The group's second round begins at 1:06 p.m. ET Friday.
For more news that golfers everywhere are talking about, follow @golf_com on Twitter, like us on Facebook, and subscribe to our YouTube video channel.